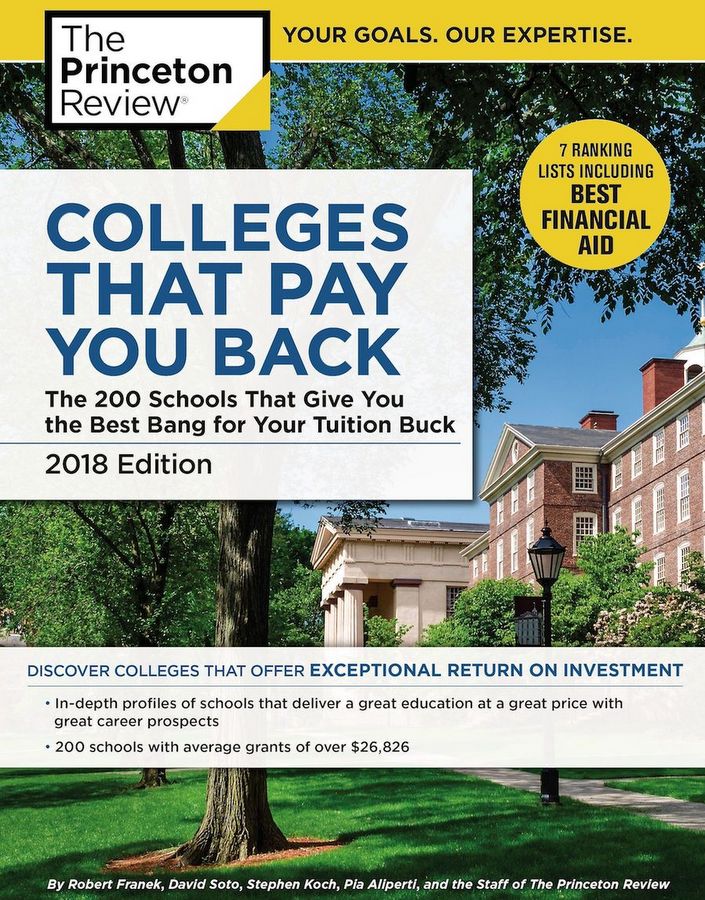 The City College of New York is one of the nation's best schools for students seeking a superb education with great career preparation and at an affordable price according to The Princeton Review®.  The Review lists CCNY in its 2018 annual guide "Colleges That Pay You Back: The 200 Schools That Give You the Best Bang for Your Tuition Buck," (Penguin Random House / Princeton Review Books) published today.  
The education services company chose the schools based on data it collected in 2016-17 from its surveys of administrators at more than 650 colleges. It also factored in data from its surveys of students attending the schools and surveys of school alumni that PayScale.com conducted through April 2017. 
In all, The Princeton Review crunched more than 40 data points to tally ROI (return on investment) ratings of the colleges that determined its selection of the 200 schools for the book. Topics covered everything from academics, cost, and financial aid to graduation rates, student debt, alumni salaries, and job satisfaction.
"We salute City College, and all of our "Colleges That Pay You Back" schools.  They stand out for their outstanding academics and their affordability via generous financial aid to students with need and/or comparatively low sticker prices," said Robert Franek, The Princeton Review's Editor-in-Chief and lead author of the book. "Students at these colleges also have access to extraordinary career services from their freshman year on, plus a lifetime of valuable alumni support."
In the book's profile of CCNY, The Princeton Review editors praise the school for its "astonishingly low cost" and quote from CCNY students surveyed who described the college as "affordable…an important factor in these tough economic times." Students also cited the three C's: "convenience, cost, and concentration." In addition, CCNY was lauded for its rigorous academic programs that "rival that of the nation's premier universities."  
The "Career Information" section in the profile lists an exceptional ROI rating score of 87 for City College.  It also cites PayScale.com figures reporting CCNY graduates with at least a bachelor's degree have a median starting salary of $51,400 and median mid-career salary of $93,000.
This is the second major accolade for CCNY by The Princeton Review in six months. Last July, City College was named one of the nation's best institutions for undergraduate education.
About The Princeton Review
The Princeton Review is a leading tutoring, test prep, and college admission services company. Every year, it helps millions of college- and graduate school-bound students achieve their education and career goals through online and in person courses delivered by a network of more than 4,000 teachers and tutors, online resources, and its more than 150 print and digital books published by Penguin Random House. Its Tutor.com brand is the largest online tutoring service in the U.S. It comprises a community of more than 3,000 tutors who have delivered more than 15 million one-to-one tutoring sessions. The Princeton Review is not affiliated with Princeton University. For more information, visit The Princeton Review. Follow the company on Twitter @ThePrincetonRev.
About The City College of New York
Since 1847, The City College of New York has provided a high quality and affordable education to generations of New Yorkers in a wide variety of disciplines. Today The Chronicle of Higher Education ranks CCNY #2 among public colleges with the greatest success in ensuring the social mobility of our student body; at the same time the Center for world University Rankings places it in the top 1.2% of universities worldwide in terms of academic excellence. More than 16,000 students pursue undergraduate and graduate degrees in eight professional schools and divisions, driven by significant funded research, creativity and scholarship. CCNY is as diverse, dynamic and visionary as New York City itself.  View CCNY Media Kit.