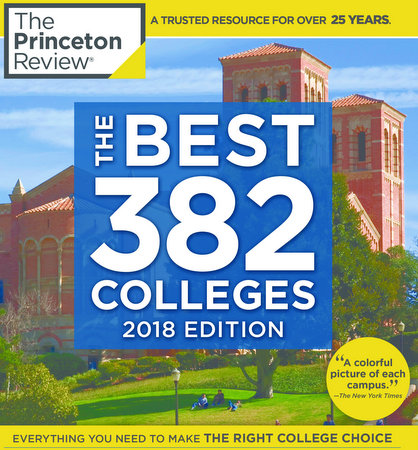 The City College of New York is one of the nation's best institutions for undergraduate education, according to The Princeton Review. The education services company features the school in the new 2018 edition of its college guide, "The Best 382 Colleges" (Penguin Random House/Princeton Review, $24.99, August 1, 2017).
Only about 15% of America's 2,500 four-year colleges and two colleges outside the U.S. are profiled in the book, which is one of The Princeton Review's most popular guides. Published annually since 1992, it has detailed profiles of the colleges with rating scores in eight categories.  The book also has ranking lists of top 20 schools in 62 categories. All of the ranking lists are based on The Princeton Review's surveys of students attending the colleges.
"We chose City College for this book because it offers outstanding academics," said Robert Franek, Princeton Review's editor-in-chief and author of "The Best 382 Colleges."
"Our selections are primarily based on our surveys of administrators at several hundred four-year colleges," added Franek. "We also visit dozens of colleges each year and give considerable weight to opinions of our staff and our 24-member National College Counselor Advisory Board. Most   importantly, we look at valuable feedback we get from each school's customers - our surveys of students attending them."
This is the second major national recognition for CCNY from The Princeton Review this year.  In January, the institution was named one of the nation's outstanding colleges for the high-value return it offers students on their investment in higher education. This earned CCNY a listing in the 2017 edition of The Princeton Review's "Colleges That Pay You Back: The 200 Schools That Give You the Best Bang for Your Tuition Buck."
Princeton noted that City College offers students a superb education with great career preparation at an affordable price. 
About The Princeton Review
The Princeton Review is a leading tutoring, test prep and college admission services company. Every year, it helps millions of college- and graduate school-bound students achieve their education and career goals through online and in person courses delivered by a network of more than 4,000 teachers and tutors, online resources, and its more than 150 print and digital books published by Penguin Random House. The Princeton Review is headquartered in New York, NY.
About The City College of New York
Since 1847, The City College of New York has provided low-cost, high-quality education for New Yorkers in a wide variety of disciplines. Today more than 16,000 students pursue undergraduate and graduate degrees in eight professional schools and divisions, driven by significant funded research, creativity and scholarship.  Now celebrating its 170th anniversary, CCNY is as diverse, dynamic and visionary as New York City itself.  View CCNY Media Kit.