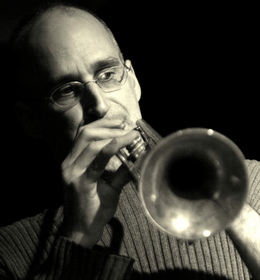 The 15th Annual CUNY Jazz Festival, a gathering of bands and ensembles from across the CUNY system, takes place May 7-8 at The City College of New York. Trumpet player/composerRalph Alessi, whose artistic voice has been hailed by Jazz Times as "sophisticated and disciplined as post-modern jazz gets," will be the festival's guest artist. The festival, in Aaron Davis Hall, Theatre B, is free and open to the public. 
"Ralph Alessi is one of the most influential and expressive modern jazz trumpet artists. I am thrilled to have him as our guest artist at this year's Festival," said Mike Holober, associate professor in the City College music department and the festival director.  
The festival opens at 12 p.m. Thursday, May 7, with a performance by the City College Jazz faculty ensemble, which comprises internationally acclaimed jazz artists.
This year's festival features ensembles from CCNY and seven other CUNY colleges: Hunter College, Queens College, York College, Lehman College, Queens College and the College of Staten Island. Also performing will be students from Shobi University in Kawagoe, Japan.
Student groups will perform 12 - 6 p.m., May 7 and 11:20 a.m. - 6 p.m. Friday, May 8.
The final gala concert begins at 7:30 p.m. Friday with a performance by one of the City College graduate jazz ensembles. At 8:30 p.m. "The Ralph Alessi Baida Quartet" will close the festival with Alessi joined by pianist Gary Versace, bassist Chris Lightcap and drummer Nasheet Wait. Click here for the full schedule of performances.
The festival is presented by The Simon H. Rifkind Center for the Humanities and the Arts at City College and the City College music department. 
About The City College of New York
Since 1847, The City College of New York has provided low-cost, high-quality education for New Yorkers in a wide variety of disciplines. More than 16,000 students pursue undergraduate and graduate degrees in: the College of Liberal Arts and Sciences;the Bernard and Anne Spitzer School of Architecture;the School of Education;the Grove School of Engineering;the Sophie Davis School of Biomedical Education, and the Colin Powell School for Civic and Global Leadership. U.S. News, Princeton Review and Forbes all rank City College among the best colleges and universities in the United States.