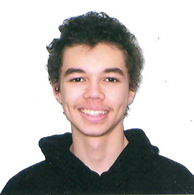 Manuel Francisco Cifuentes entered his senior year at The Calhoun High School in September. He recently completed the Bernard and Anne Spitzer School of Architecture's Architecture Summer Career Lab (http://ssa1.ccny.cuny.edu/programs/career-lab.html).
A joint program of the Spitzer School and the City College Continuing and Professional Studies Program, the Lab admits a select number of high school juniors and seniors 16 years or older at the start of the program, providing them with the practical experience required making an informed and meaningful career choice.
Cifuentes applied to the program because he wanted to explore architecture. Below are his reflections on his time in the Lab.
Normally in an interview, the interviewer asks, "If you were to sum up this program in one word, what would it be?"
That's an impossible question to answer. Here's why.
First off, the plan was to do three projects. The first project was to build four boxes with pictures and drawings on the interior and exterior, representing our site in St. Nicholas Park. The second project was to then take certain pieces of a graph, and build a model of the lines being extruded, a model of the spaces in between extruded (so if you theoretically put them together you would make a box), and have autoCAD drawings for each model. The third project was to make three models of our houses using a quarter-inch, half-inch, and three-inch scale (and have autoCAD drawings of those as well).
Here's what actually happened. Project One was pretty straightforward. Professor Titus, our professor with an architecture degree from the Irwin S. Chain School, gave us extended time for Project Two, for which we were allowed to complete most, if not all, of the models. Project Three ended up being a really good quarter inch model of our houses (with all the drawings).
This being said, the latter worked. Professor Titus and all of our teaching assistants really wanted us not to feel rushed to get a mediocre job. They wanted us to understand our work and to make a product that, even if incomplete, we can stand behind and feel proud of. Even now, when the programs over and my models are at home, I am still proud of the way my models and projects turned out in the end, knowing how much this program taught me in order to get there.
I learned skills beyond architecture through this program. We took crash courses on programs like autoCAD, Photoshop, Illustrator, and Rhino, and other programs that I hadn't even heard of until this course started. On the flip side, we learned qualitative skills like model building, making clean cuts in almost any material and using a laser cutter, just to name a few.
The best part was that most of the time was dedicated to studio work, meaning constant practice with honing these skills. Professor Titus said during the first week that "you will be embarrassed by your first project when you're done with the course." I refused to accept that, but, come today, Project One is gathering dust in my closet. I kept it for one reason and one reason only: to show myself how much I've grown as an architect, builder and person through this course.
I'm not the only one. I had classmates whom I never would have met elsewhere and from all walks of life, from places like a few blocks away to Greece, China and New Zealand, from rising juniors in high school to people looking to switch careers. In fact, this startled me so much that I thought I was in the wrong room on the first day, and I needed to ask the program manager (an awesome architect named Brad who graduated from Cooper Union). But I was in the right room. Here we all were, embarking on the same boat and doing the same thing, and growing alongside one another. And all the seemingly random things that I remember from the program, from finding P.S.1 without directions to carrying tables up stairs, wouldn't have meant anything if they weren't there. 
I also want to thank all the teaching assistants for having to deal with us. I took that line from one of my classmates because that's the only possible way to describe it. Adelaida, our main teaching assistant who was getting her master's at City College, made sure she got to each and every one of us who had questions with autoCAD -- even though we came 20 at a time, mostly with the same question repeated over and over. She also was the one who made sure the entire program didn't fall apart, which I can now see was extremely difficult, so I respect and thank her for that. Maria and Nick were our other TAs from City College, and they were also amazing. Maria showed us shortcuts that I still use now in autoCAD and saved all of us a boatload of time. Nick came to each of us while we were working to talk to us about our projects, and answered individual questions even when we were scattered around two different floors.
Lastly, I want to thank Professor Titus for being himself. Although he may not know this, me and a few others began referring to his critiques as the "Titus Effect," referring to our having to change our entire design and build an entirely new model for our house when he would come up to us and give us a recommendation. Those recommendations would be "think outside of the box," "let the space define itself" and other language like that. But I have to admit now that he was right. My house came out looking completely unique thanks to the "Titus Effect." With his suggestions, I made it completely my own, pushing myself to make something completely out of the ordinary. In this day and age, it's what defines the time. And I love it.