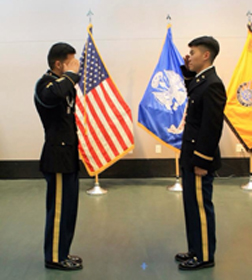 The Reserve Officers Training Corps program at the City College of New York continues to grow, providing access and leadership training to 150 students from 17 City University of New York campuses.
The program's director, Professor Rishi S. Raj, has set an ambitious goal of doubling the current enrollment to 300 by 2016. 
"We will be adding the community colleges this year, and that should really help to boost our numbers," he said. 
Raj added that an additional attraction for potential recruits is the financial aid available to them. So far, $1.352 million in scholarships and allowances have been awarded to CUNY cadets, an average of roughly $9,000 per cadet.
One recent graduate is 2LT Eric Lee '15, who now serves in the Army Reserve as an executive officer of the 140th Quartermaster Company in Bayside, Queens. Lee was one of seven CUNY cadets who received their commissions at a ceremony held at City College in May.
The CCNY ROTC program has also been recognized for its excellence four times in the past year by the U.S. Department of Defense. 
About The City College of New York
Since 1847, The City College of New York has provided low-cost, high-quality education for New Yorkers in a wide variety of disciplines. More than 16,000 students pursue undergraduate and graduate degrees in: the College of Liberal Arts and Sciences;the Bernard and Anne Spitzer School of Architecture;the School of Education;the Grove School of Engineering;the Sophie Davis School of Biomedical Education, and the Colin Powell School for Civic and Global Leadership. U.S. News, Princeton Review and Forbes all rank City College among the best colleges and universities in the United States.