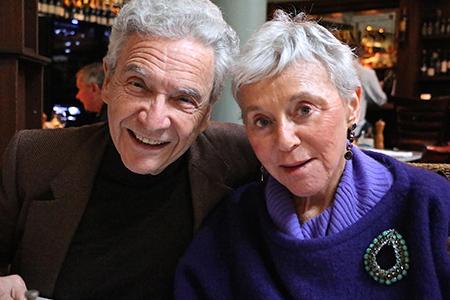 Four Folded Square Alphabet Letters from the Fletcher Benton: The Alphabet series are on permanent display at CCNY. Photo: Dr. Yoel Haller (left) and Eva Haller (right), who gifted the letters to the college.
Four Folded Square Alphabet Letters from the Fletcher Benton: The Alphabet series are on permanent display at The City College of New York's south campus. Known as one of America's leading sculptors, the late artist's style consisted of cutting, folding and realigning two-dimensional sheets of steel into three-dimensional objects that seem to defy gravity.
Gifted to the college in 2013 by Eva Haller, who attended City College from 1954-1955, and her husband Dr. Yoel Haller, the letters spell out CCNY and were estimated to be worth $500,000 at the time. 
Haller, a philanthropist, activist and executive, was born in Hungary, and at the age of 12 she joined the Hungarian resistance—creating and distributing anti-Hitler leaflets while hiding with other students at the Scottish Mission. Eventually, she made her way to New York where she earned a Bachelor of Art's degree from The New School and a master's degree in social work from Hunter College.
Along with her late husband, Murray Roman, Haller co-founded the Campaign Communications Institute of America, a marketing and research company that revolutionized the use of telemarketing in political campaigns and Fortune 100 companies. She and her second husband, Dr. Haller—founder and president of the Obstetrics and Gynecologic Associates of San Francisco—have been devoted to social, educational and environmental activism and philanthropy. They have supported arts and culture in the Santa Barbara area for decades.
"The college is grateful to the Hallers for this tremendously unique gift to CCNY," said Dee Dee Mozeleski, vice president of the Office of Institutional Advancement and Communications, executive director of the Foundation for City College and senior advisor to the president. "Benton's work has often been described as seeming to defy gravity. We are thrilled to celebrate his life and work and to have the new sculptures serve as a welcome for visitors to our campus community for generations to come." 
The Alphabet sculptures trace back to Benton's childhood in the early 1940s where at the age of 12 he taught himself how to create classic Roman serif alphabet letters with brush strokes. He later opened a sign shop at 14 in Jackson, Ohio and continued making a living into his 30s as a certified union sign-writer.
After a stint in the Navy and obtaining a Bachelor of Fine Arts degree from Miami University, Benton stopped working as a sign-writer and developed his career as an artist becoming a leading figure in the kinetic art movement of the 1960s. 
His transition to traditional three-dimensional sculpture involved working with circles, spheres, cylinders, cubes and squares. He decided that alphabet letterforms were the perfect subject to work with, and this would later become the basis for his Folded Square and Folded Circle series. 
To learn more about Benton, please visit: https://www.miamioh.edu/cca/news/2019/07/fletcher_benton.html.
About the City College of New York
Since 1847, The City College of New York has provided a high-quality and affordable education to generations of New Yorkers in a wide variety of disciplines. CCNY embraces its position at the forefront of social change. It is ranked #1 by the Harvard-based Opportunity Insights out of 369 selective public colleges in the United States on the overall mobility index. This measure reflects both access and outcomes, representing the likelihood that a student at CCNY can move up two or more income quintiles. In addition, the Center for World University Rankings places CCNY in the top 1.8% of universities worldwide in terms of academic excellence. Labor analytics firm Emsi puts at $1.9 billion CCNY's annual economic impact on the regional economy (5 boroughs and 5 adjacent counties) and quantifies the "for dollar" return on investment to students, taxpayers and society. At City College, more than 16,000 students pursue undergraduate and graduate degrees in eight schools and divisions, driven by significant funded research, creativity and scholarship. CCNY is as diverse, dynamic and visionary as New York City itself. View CCNY Media Kit.