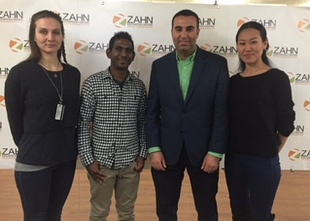 "Smart Bridge Sockets," a home energy management system that enables residential consumers to efficiently and autonomously manage home appliances, earned three City College of New York electrical engineering students first place in an international competition at the United Nations.
The portable device was developed by Erzhena Badmatsyrenova (junior), Gayashan Fernando (senior) and Anna McGilloway (sophomore) in City College's Zahn Innovation Center. It topped entries from 15 other teams in the Resolution Project's Social Venture Challenge, including participants from Malaysia, Indonesia, Singapore and Mexico. 
According to Dr. Ahmed Mohamed, assistant professor of electrical engineering in the Grove School of Engineering at CCNY and the Smart Sockets team mentor, the system functions by utilizing a set of remotely-controlled outlet-appliance interface boxes. 
"These smart boxes operate corresponding to sophisticated algorithms that run on an embedded system, while giving the consumer a user-friendly interface to interact with," he explained.
Smart Sockets is also a semi-finalist in the Standard Chartered Bank Women Entrepreneurs competition under the auspices of the Zahn Innovation Center. The final pitch is scheduled for April 29.   
The Zahn Innovation Center, the Zahn Prize and the Social Innovation Challenge are supported by gifts to the City College Fund from the Moxie Foundation.
About The City College Fund
The City College Fund is a tax-exempt 501c(3) non-profit fundraising organization, established in 1946 to support The City College of New York in its mission to provide access and excellence in higher education, particularly to students who might not otherwise be able to afford to go to college. Gifts to The City College Fund directly benefit City College's extraordinary students, renowned faculty, innovative programs and schools.
About The City College of New York 
Since 1847, The City College of New York has provided low-cost, high-quality education for New Yorkers in a wide variety of disciplines. More than 16,000 students pursue undergraduate and graduate degrees in: the College of Liberal Arts and Sciences;the Bernard and Anne Spitzer School of Architecture;the School of Education;the Grove School of Engineering;the Sophie Davis School of Biomedical Education, and the Colin Powell School for Civic and Global Leadership. U.S. News, Princeton Review and Forbes all rank City College among the best colleges and universities in the United States.