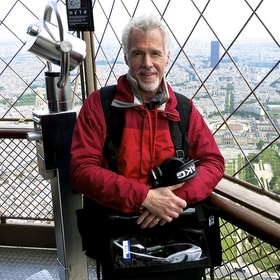 New York's only BFA in music with audio technology concentration combines academics with hands-on experience in a professional setting
As City College of New York students nearly a century ago, legendary lyricists Yip Harburg and Ira Gershwin likely strolled through Shepard Hall on their way to class. Today, the landmark gothic-style building is home to a unique resource that helps students and established artists alike make music.  
It is CCNY's Sonic Arts Center (SAC), founded in 1994 by audio engineer and composer Paul Kozel, who also serves as director. Staffed by award-winning professionals from every facet of the music and audio technology industry, the center combines academics and hands-on experience in a professional setting.
 
Academically, SAC is the only program in New York that offers a four-year, Bachelor of Fine Arts (BFA) degree in music with a concentration in audio technology.  Professionally, it boasts a first-class studio that is used by both students and seasoned musicians. 
"The technology is current, professional-quality software and hardware that is used in the music and audio technology industry," said Professor Kozel. 
 
Richie Havens, the singer and songwriter of Woodstock fame who died last spring, is an example of a music professional that has been associated with SAC. He recorded a children's album there in 2006 that will be released posthumously. Patrick Noth, then a student in the program and since Emmy-nominated for his sound work elsewhere, earned credit as an arranger and engineer on Havens' project. 
 
Recent SAC graduates such as Jo Keita and Andy Mineo have also gone on to make their mark in film and music projects, respectively.
 
Last year, the center was a hive of activity as Mr. Keita, a 2012 BFA music and audio engineering graduate, led nine other alumni and students in the postproduction audio work on a Japanese independent film, "Odayaka." It was a 2013 Tribeca Film Festival selection. 
 
"SAC alumni and students currently in the program comprised the entire postproduction audio team for "Odayaka," said Professor Kozel. "All audio post-production work was done at the Sonic Arts Center. Jo Keita assembled the team and directed all of its activities."
 
A Long Island City resident born in Japan, Mr. Keita said it took seven months to complete postproduction on the 100-minute film, which was inspired by the March 2011 earthquake in his homeland and the ensuing Fukushima nuclear disaster. It was shot in Tokyo and premiered at a festival for independent movies there in November 2012.
 
"I think the SAC crew did a great job. The quality was fantastic, thanks to what they've learned in the Sonic Arts Center and the excellent resources there," said Mr. Keita, whose credits on the project included associate producer, sound designer and supervising sound editor.
 
Andy Mineo, a rising star of Christian hip hop, is another outstanding Sonic Arts alumnus. A member of CCNY's Class of 2011, he completed his first album at SAC that year. "Heroes for Sale," his latest album, sold more than 27,000 units on iTunes, the biggest first week of sales for a debut album in that genre.
 
These student success stories are perhaps no surprise. 
 
"Our program's balanced emphasis in music and audio technology training creates graduates who are as comfortable creating a string arrangement or a film underscore as they are tracking and mixing an album," said Professor Kozel. 
 
The training, he added, is intertwined to create a highly marketable service provider for today's highly competitive music and audio technology industry. 
A recent addition to the SAC curriculum is a new class, "The Musician Entrepreneur," to nurture students' entrepreneurial skills. 
"Students now must be aware of how to best market their services, understand their rights as creative artists, collect fees from their clients and so forth," explained Professor Kozel. "To that end, we have created this new class to address these issues."
Who can enter the program? SAC seeks creative, musical, and technically adept students with previous music and audio technology experience and a portfolio of creative work. Prerequisite classes are available for candidates who lack the appropriate audio or music experience.
And, in a nod to SAC's excellence and the quality of its staff, Professor Kozel and Joe Popp, the center's technical director, were selected to participate in composer Joseph Bertolozzi's latest project last May. They served as audio engineers in Paris, where Mr. Bertolozzi harvested sounds from the Eiffel Tower for an hour-long composition dubbed "Tower Music." 
On the Internet
About The City College of New York 
Since 1847, The City College of New York has provided low-cost, high-quality education for New Yorkers in a wide variety of disciplines. More than 16,000 students pursue undergraduate and graduate degrees in: the College of Liberal Arts and Sciences; the Bernard and Anne Spitzer School of Architecture; the School of Education; the Grove School of Engineering, the Sophie Davis School of Biomedical Education, and the Colin L. Powell School for Civic and Global Leadership. 
Set on a striking, 35-acre hilltop campus in upper Manhattan, CCNY has produced more Nobel laureates than any other public institution in the United States. The College has been touted as one of the Best Colleges in the United States as well as one of the Best Value Colleges by the Princeton Review, and ranks among U.S. News' top regional universities.