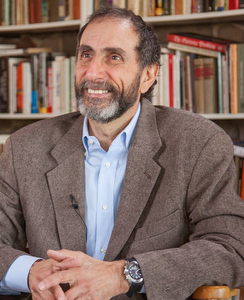 Twenty-one students from South Korea's Kyungpook National University are spending Feb. 16-23 at The City College of New York for a week-long seminar on philosophical counseling led by noted CCNY philosopher and author Dr. Lou Marinoff.
The founding president of the American Philosophical Practitioners Association, Marinoff has held similar seminars at institutions in Asia and other parts of the world. It is being offered at City College for the first time in conjunction with the school's Continuing and Professional Studies program.
"The students coming from Korea are very eager for this learning experience and we welcome them to City College for this intensive seminar," said Marinoff, professor of philosophy in the Division of Humanities and the Arts.
 The visiting students, whose trip is funded by the Korean government, are:
Donghun Kim;
Wonjin Kim;
Eunji Kim;
Eso Kim;
Changhyeon Park;
Harim Park;
Saehuin Baek;
Jiwon Baek;
Kyungdeok Seo;
Yeaji Son;
Sojin Yun;
Sumi Lee;
Hwigyeong Lee;
Dan Jung;
Hyejin Je;
Subin Cho;
Yongjun Cho;
Soomin Choi;
Hyeji Choi;
Sooyoung Chu; and
Junhyuk Seo
They will be led by Dr.  Suk Soo Kim, director of the Humanities Institute at Kyungpook National University.
About The City College of New York
Since 1847, The City College of New York has provided low-cost, high-quality education for New Yorkers in a wide variety of disciplines. More than 15,000 students pursue undergraduate and graduate degrees in the College of Liberal Arts and Science; Bernard and Anne Spitzer School of Architecture; School of Education; Grove School of Engineering; Sophie Davis Biomedical Education/CUNY School of Medicine; and the Colin Powell School for Civic and Global Leadership. U.S. News, Princeton Review and Forbes all rank City College among the best colleges and universities in the United States.