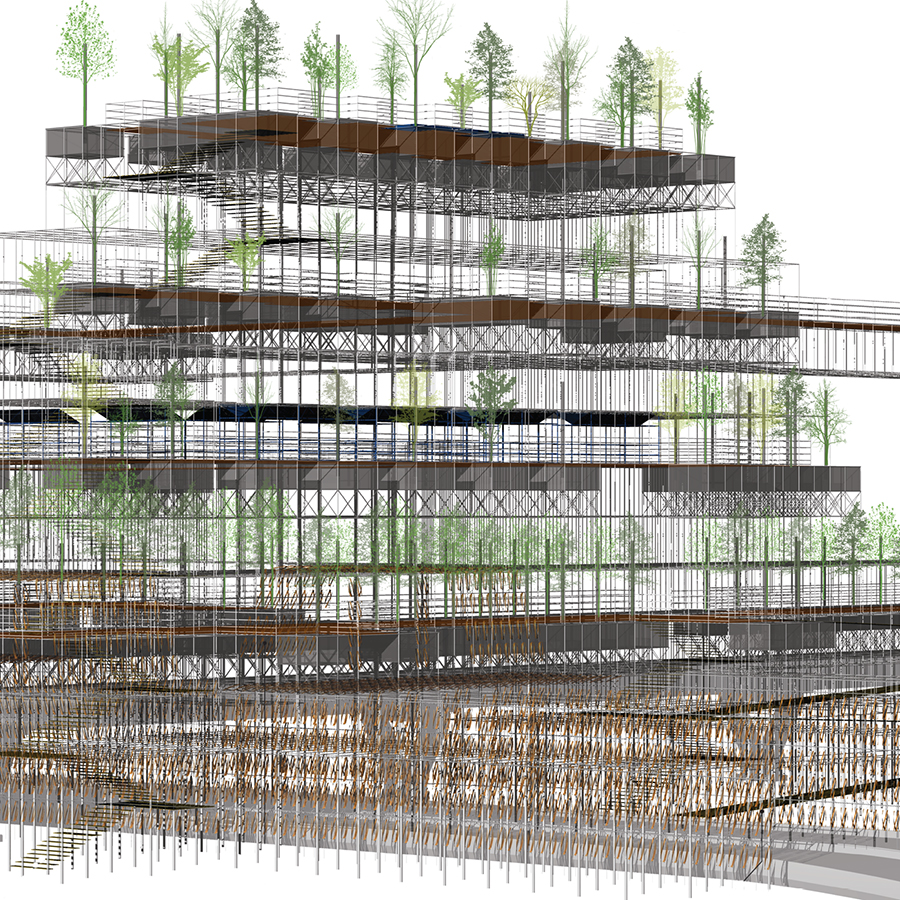 The City Stabile by Hana Georg. One of the Spitzer School's winning projects at the 11th International Biennial of Landscape Architecture in Barcelona.
The City College of New York's Master of Landscape Architecture Program clinched the International Landscape School's Prize at the 11th International Biennial of Landscape Architecture in Barcelona, Spain. Work by Bernard and Anne Spitzer School of Architecture students was submitted to represent the program's approach to the Biennial's theme, "Climate Change Again." The award was delayed by Covid, but the school's work was presented as finalists at the Escola Tèchnica Superior d'Arquitectura de Barcelona last year.

The winning projects were by Anna Speidel '19, Hana Georg '19, Anna McKeigue '20, Rujuta Naringrekar '20, and Abigail Stein '22. 

Former Director and Spitzer professor Denise Hoffman Brandt presented the work to the jury, framing the program's pedagogical structure and emphasis on addressing the climate emergency. She also shared a video with each student presenting their respective projects.  
Félix Solaguren, president of the International Schools Prize jury, was impressed. "From the City College of New York, we see work from across the globe that draws out important theoretical dimensions for our field. The work offers alternative perspectives and new insights, and the projects work with social and environmental issues in new ways," he said.
Following are the prize-winning Spitzer submissions and their designers:
About the City College of New York
Since 1847, The City College of New York has provided a high-quality and affordable education to generations of New Yorkers in a wide variety of disciplines. CCNY embraces its position at the forefront of social change. It is ranked #1 by the Harvard-based Opportunity Insights out of 369 selective public colleges in the United States on the overall mobility index. This measure reflects both access and outcomes, representing the likelihood that a student at CCNY can move up two or more income quintiles. In addition, the Center for World University Rankings places CCNY in the top 1.8% of universities worldwide in terms of academic excellence. Labor analytics firm Emsi puts at $1.9 billion CCNY's annual economic impact on the regional economy (5 boroughs and 5 adjacent counties) and quantifies the "for dollar" return on investment to students, taxpayers and society. At City College, more than 16,000 students pursue undergraduate and graduate degrees in eight schools and divisions, driven by significant funded research, creativity and scholarship. CCNY is as diverse, dynamic and visionary as New York City itself. View CCNY Media Kit.