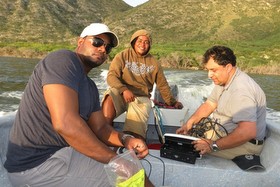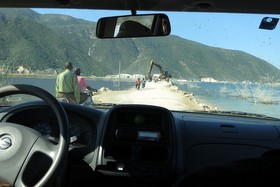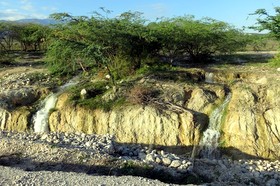 Researchers set up monitoring stations to identify causes behind expansion of landlocked Lake Enriquillo, observe impact on Lake Azuei
Spring break in the Caribbean conjures up images of days on the beach and nights in the clubs. But for five City College of New York undergraduate environmental engineering majors, two professors, a graduate student and a post-doc, it means something very different: trying to understand a climate-related phenomenon that is imperiling two lakes on the border between Haiti and the Dominican Republic.
The team, led by Dr. Fred Moshary, professor of electrical engineering in the Grove School of Engineering, and Dr. Michael Piasecki, Grove associate professor of civil engineering, left March 21 for a week installing environmental monitoring equipment on Lake Enriquillo in the Dominican Republic and Lake Azuei in Haiti and three locations in the mountain range south of the two lakes.
Besides Professors Moshary and Piasecki, it includes: Dr. Daniel Comarazany, a post-doctoral fellow; PhD candidate Paul Celicort, and senior environmental engineering majors Joseph Cleto, Mandy Luo, Denia Guzmán, Gurpreet Parmar and Hagai Rifkind. Joining them will be Dr. Mimi Sheller, a sociology professor at Drexel University, who, along with Dr. Comarazany, is investigating community response to potential mitigation strategies.
"Our goal is to understand the behavior of the lakes in response to climate change," said Mr. Cleto, who is of Dominican background and is making his second student trip to the region. "We want to understand the interaction between Lake Azuei and Lake Enriquillo."
He called working on the project "an amazing experience" since he has been involved at almost every step. "It is as close as you can get to a real project while in school."
Lake Azuei, which is in Haiti, is three kilometers from Lake Eriquillo. It sits at an elevation of 30 meters whereas Lake Enriquillo is at 10 meters below sea level and rising. Its level has risen 10 meters since 2003 and its area has increased from 155 square kilometers in 2004 to 354 square kilometers today, Professor Moshary noted.
The Dominican government has relocated many of the 10,000 people living in the area. In addition, one of the main highways linking the two countries has been closed because parts of it are now submerged.
A City College team that visited the area last December noticed the formation of streams forming from Lake Azuei running down toward Lake Enriquillo. This may be the result of pressure on the underground soil caused by the rising lake level, said Dr. Jorge González, professor of mechanical engineering. Professor González is principal investigator on the $200,000 National Science Foundation grant that is supporting the project.
"What is occurring on Lake Azuei is like a dam breaking," he added. "The rate of runoff is likely to accelerate and could result in an environmental disaster. We need to be able to do forecasting before the next rainy season."
The three land-based monitoring stations that Mr. Cleto and his classmates are installing will gather data on air temperature, humidity, wind speed and direction, evaporation rate, soil moisture, barometric pressure and rainfall. The stations on Lake Azuei and Lake Enriquillo will collect measurements on water temperature, salinity and level.
The data will be observed and analyzed remotely via Internet and satellite feeds at City College's NOAA-CREST (Cooperative Remote Sensing Science and Technology) Center. It will also be used in modeling to predict the impact of future climate change.
"Historically, Lake Enriquillo, which is landlocked, has been twice as salty as the ocean," Professor González noted. "However, random samples indicate its salinity has fallen by as much as 50 percent. If we can confirm this, then it means the main source of the rising lake level is storm water runoff from the mountains."
Satellite images show there has been a significant increase in the formation of forest clouds, which linger permanently, alongside the mountains that surround Lake Enriquillo. "Ten years ago, there were just a few. Now there are many," he added.
Knowing what is causing the lake's level to be raised will help officials in the Dominican Republic and Haiti develop effective mitigation strategies. Some of the ideas being considered include construction of levees or channels to divert water away from the two lakes, Professor González said.
On the Internet