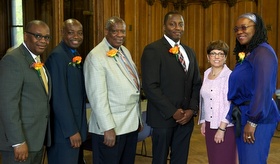 City College President Lisa S. Coico presented S.T.A.R. awards (Service, Teamwork, Action and Results) to six administrators, one posthumously, May 7 at the annual President's Staff Appreciation and Service Awards ceremony. 
Pyser S. Edelsack, director of field education in the Sophie Davis School of Biomedical Education, who died May 5, was the posthumous honoree. 
"Pyser served the Sophie Davis School for more than 35 years and his commitment to its students was bar none," said President Coico. "His passing is tragic and a great loss."
The other 2014 S.T.A.R. recipients and their hometowns are: 
Vernon Ballard (Manhattan), director, user support services and information security, Office of Information Technology;
 
Gaslin Osias (Queens), admissions counselor, Office of Admissions;
 
 Gregory Shanck (Smallwood, NY), managing director, Aaron Davis Hall;
 
Christopher Wanyonyi (Staten Island), director, admissions, Sophie Davis School of Biomedical Education;
 
 Nkem E. Stanley-Mbamelu (Bronx), assistant director, City College Academy for Professional Preparation.
In addition, President Coico presented a special recognition award for valor to CUNY Campus Security Assistant Jonathan Ulysse, who was attacked while on duty October 7 and later helped apprehend his assailant. Earlier this month, Mr. Ulysse received a Campus Public Safety Officer of the Year Award from the Long Island College and University Security Consortium. 
The event also recognized 124 staffers marking their 10, 15, 20, 25, 30, 35, 40 and 45-year anniversaries, plus retirees. The longest serving is Associate Budget Director Ira Blumenreich of Pomona, N.Y., who is celebrating his 45th year at City College. Custodial assistant William O. Little, who died recently, was honored posthumously for 40 years of service. 
About The City College of New York 
Since 1847, The City College of New York has provided low-cost, high-quality education for New Yorkers in a wide variety of disciplines. More than 16,000 students pursue undergraduate and graduate degrees in: the College of Liberal Arts and Sciences; the Bernard and Anne Spitzer School of Architecture; the School of Education; the Grove School of Engineering; the Sophie Davis School of Biomedical Education, and the Colin Powell School for Civic and Global Leadership. U.S. News, Princeton Review and Forbes all rank City College among the best colleges and universities in the United States.