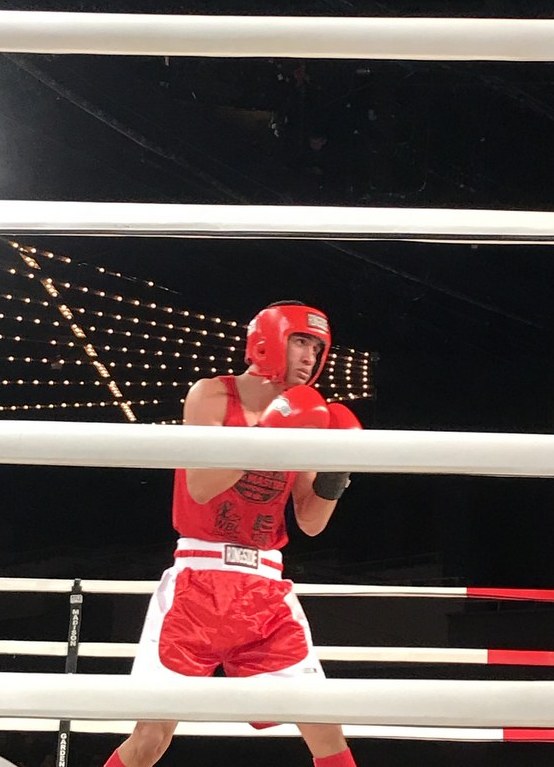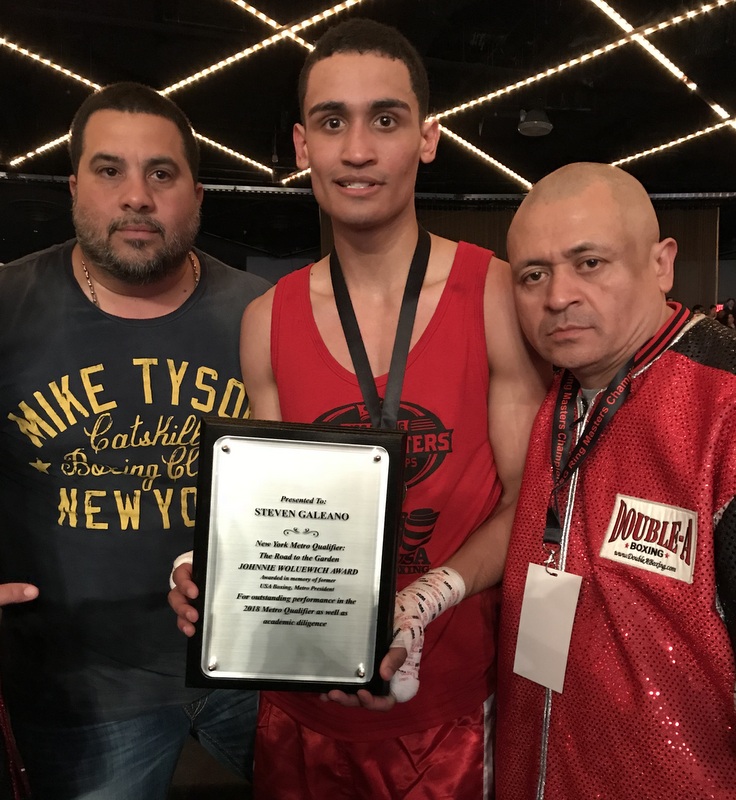 Nineteen-year-old Steven Galeano is the quintessential mix of brains and brawn that powers The City College of New York's scholar-athlete tradition. The AD/PR sophomore in CCNY's Division of Humanities and the Arts turned on the style at Madison Square Garden to win the inaugural MSG Ring Masters' 141-pound open championship. He defeated Deyshawn Williams of Eastern Queens BC in a three-rounder.
But that's not all. Galeano, a Harlem resident, also received the USA Boxing Metro's top honor, the Johnnie Woluewich Award for his athletic and academic achievements. He's a journalism minor and has a 3.20 GPA.
In the community, Galeano is a mentor in Harlem's Young Achievers program that provides guidance and support to young men of color.
Next stop for the multiple amateur titlist is the 2018 National Golden Gloves, May 14-19, in Omaha, Nebraska. Galeano will be representing the NY Metro team.
Even though City College hasn't had a varsity boxing program in decades, Galeano who trains at the Bronxchester BC under Coach Marc Farrait, proudly flies the CCNY flag in the ring. He thanks the college for supporting both his academic and athletic endeavors.
"Representing CCNY has been a pleasure," he said. "The environment and everyone I've met at CCNY have supported me as I focus simultaneously on my academics and boxing.
"CCNY has very much complemented my long-standing admiration for education and I can't wait to graduate and walk across the stage in 2020 as YOUR champion."
From a boxing family, Galeano is actually following in his older brothers, Edwin, Jr. and Chris' footsteps. Chris, a CCNY alumnus, was a two-time New York Daily News Golden Gloves winner, a USA Championship Golden Medalist and is 10-1 as a pro in the middleweight division.    
Galeano is co-trained by his father Edwin, Sr, and had one bye and two decision victories in qualifying for the Ring Masters finals.
About the MSG Ring Masters Championships
More than 600 boxers competed in over 200 bouts in the inaugural Ring Masters Championships organized by USA Boxing Metro. Forty-six qualified to the finals at Madison Square Garden which featured both men's and women's novice class and open class divisions. The tournament officially replaces the New York Daily News Golden Gloves that run from 1927 to 2017 and produced many world champions. These include Sugar Ray Robinson, Floyd Patterson, Jose Torres, Emile Griffith, Mark Breland and Riddick Bowe.
About The City College of New York
Since 1847, The City College of New York has provided a high quality and affordable education to generations of New Yorkers in a wide variety of disciplines. Today The Chronicle of Higher Education ranks CCNY #2 among public colleges with the greatest success in ensuring the social mobility of our student body; at the same time the Center for world University Rankings places it in the top 1.2% of universities worldwide in terms of academic excellence. More than 16,000 students pursue undergraduate and graduate degrees in eight professional schools and divisions, driven by significant funded research, creativity and scholarship. CCNY is as diverse, dynamic and visionary as New York City itself.  View CCNY Media Kit.