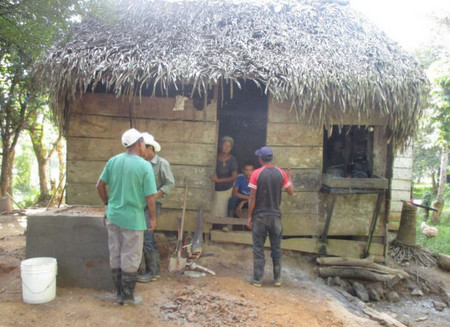 Five members of The City College of New York's Engineers Without Borders student chapter are back from Nicaragua after completing a week-long mission to address the water needs of a rural community there. Students Jian Cao, Andrea Iguina, Jillian Panagakos, Rodrigo Ulloa, and Isabel Zayas were accompanied to Tadazna by Dr. Kyle McDonald, Terry Elkes Professor of Earth and Atmospheric Science, and the team's travel mentor.
This is the first project in the partnership between EWBUSA CCNY and the community of Tadazna. Approximately half the population of Tadazna does not have easy access to clean, potable water. The community suggested the construction of six water wells to accommodate the needs of six families who are not connected to the municipal water system.
The Grove School of Engineering students conducted this first assessment trip in order to collect necessary data that would allow for the start of well design. During the trip, the team learned about the community's culture by visiting residents in their homes and conducting interviews.
The opinions and thoughts of the community members involved are vital to the design and implementation of the project. The students also conducted water quality tests and a land survey.
The partnership between EWBUSA CCNY and Tadazna was made possible through Bridges to Community an NGO in the region.
About Bridges to Community
Bridges to Community is an international not-for-profit organization whose two-part mission is to improve the lives of impoverished communities in developing countries through volunteer service trips, and to simultaneously educate and transform those volunteers to be more aware of the connections we all share and the ways we can all impact our lives for the better. Visit the organization on Facebook or send an email to info@bridgestocommunity.org.
About Engineers Without Borders-USA
EWBUSA is a nonprofit humanitarian organization established to support community driven development programs worldwide through partnerships that design and implement sustainable engineering projects. EWBUSA members, comprising professional and student engineers or other disciplines, work with local communities and NGOs in over 45 developing countries around the world on projects such as water, renewable energy, sanitation and more.  Click here for more information about the organization.
About The City College of New York
Since 1847, The City College of New York has provided low-cost, high-quality education for New Yorkers in a wide variety of disciplines. More than 15,000 students pursue undergraduate and graduate degrees in the College of Liberal Arts and Science; Bernard and Anne Spitzer School of Architecture; School of Education; Grove School of Engineering; Sophie Davis Biomedical Education/CUNY School of Medicine; and the Colin Powell School for Civic and Global Leadership. U.S. News, Princeton Review and Forbes all rank City College among the best colleges and universities in the United States.