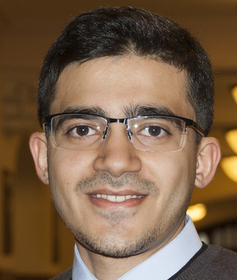 Syed Haider from The City College of New York's Class of 2014 has been awarded a 2015 Jonas E. Salk Scholarship for medical school by the City University of New York.
Salk Scholarships provide a stipend of $8,000 per scholar, to be appropriated over three or four years of medical studies.The awards recognize the high ability and scholarship of students who plan careers in medicine and the biological sciences, and who are judged likely to make significant contributions to medicine and research. Honorees are selected on the basis of original research papers undertaken with prominent scientist/mentors.
Haider's research project was entitled the "Involvement of Transcription Factor CREB/crh-1 and Co-Factor crtc-1 in Modulating Neuroprotection and Reducing Excitotoxicity inCaenorhabditis elegans."
Born and raised in Pakistan, the Hicksville, Long Island, resident received a BS in biology from CCNY's Division of Science last May. He had a 3.88 GPA and will attend Icahn School of Medicine at Mount Sinai in Manhattan. 
The scholarship is named for Jonas Salk, MD, a 1934 graduate of City College, who developed the first polio vaccine in 1955. Salk turned down a tickertape parade in honor of his discovery, and asked that the money be used for scholarships instead. New York City provided initial funding for the scholarships that year. 
About The City College of New York
Since 1847, The City College of New York has provided low-cost, high-quality education for New Yorkers in a wide variety of disciplines. More than 16,000 students pursue undergraduate and graduate degrees in: the College of Liberal Arts and Sciences; the Bernard and Anne Spitzer School of Architecture; the School of Education; the Grove School of Engineering; the Sophie Davis School of Biomedical Education, and the Colin Powell School for Civic and Global Leadership. U.S. News, Princeton Review and Forbes all rank City College among the best colleges and universities in the United States.