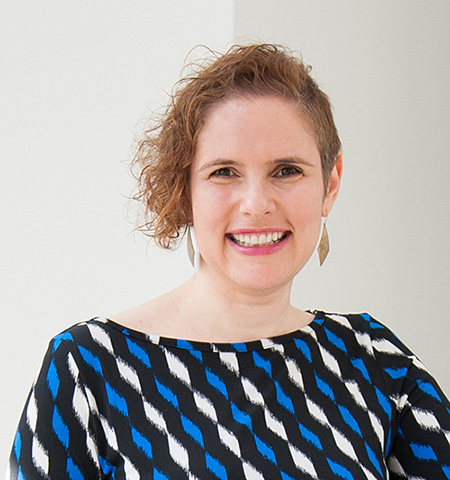 Tatyana Kleyn is the recipient of the 2019 Gladys Correa Memorial Award.
Tatyana Kleyn, associate professor and director of the Programs in Bilingual Education and TESOL at The City College of New York's School of Education, is the 2019 recipient of the Gladys Correa Memorial Award from the New York State Association for Bilingual Education. Kleyn received this award for her growth and expertise as a bilingual educator.
As faculty advisor to the Dream Team, Kleyn received the Early Career Award for the Bilingual Research SIG for the American Educational Research Association. From 2014-2015, she served as president of the New York State Association for Bilingual Education and a Fulbright Scholar in Oaxaca, Mexico.
She is co-PI for the Multilingual Learner Project, which works in collaboration with New Visions to prepare high school content teachers to better teach their bilingual students.  She was also a research associate and acting co-PI for the CUNY New York State Initiative on Emergent Bilinguals, which supports educators across New York by using students bilingualism as a resource and creating school-wide multilingual ecologies.
Kleyn is also an expert in immigration, undocumented immigrants, Dreamers, TESOL, multilingual learners and immigrant students. Kleyn and CCNY's other faculty experts can be contacted through our faculty experts' page.
About The City College of New York
Since 1847, The City College of New York has provided a high quality and affordable education to generations of New Yorkers in a wide variety of disciplines. CCNY embraces its role at the forefront of social change. It is ranked #1 by the Harvard-based Opportunity Insights out of 369 selective public colleges in the United States on the overall mobility index. This measure reflects both access and outcomes, representing the likelihood that a student at CCNY can move up two or more income quintiles. In addition, the Center for World University Rankings places CCNY in the top 1.2% of universities worldwide in terms of academic excellence. More than 16,000 students pursue undergraduate and graduate degrees in eight professional schools and divisions, driven by significant funded research, creativity and scholarship. CCNY is as diverse, dynamic and visionary as New York City itself.  View CCNY Media Kit.