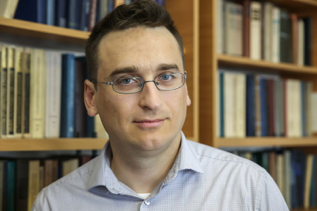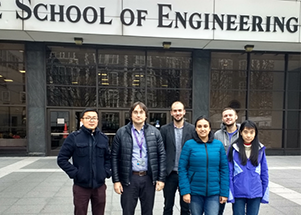 From left: Xiang Ni, Alexander Khanikaev, Ben Hopkins, Sahana Bhattacharyya, Matthew Weiner, Mengyao Li.
One day soon your camera phone lens could be even thinner and flatter. Satellites could be smaller. Your laptop could stay cooler and your battery last longer. Diseases could be detected earlier. All thanks to breakthroughs in topological photonics research being done by a team of researchers led by Alex Khanikaev, associate professor in the Grove School of Engineering at The City College of New York.  
Khanikaev's photonics work in metamaterials – specifically in 3D optical circuitry – has just been recognized by the Optical Society of America as one of the 30 most important breakthroughs in the field. In fact, it has been featured on the cover of the December issue of Optics and Photonics News.  
What are metamaterials? Materials whose structure has been changed on a nanoscopic level to allow them to have properties not found in nature. For example, glass that's as reflective as metal or metal made transparent by structuring it on a nanoscopic scale – which is much smaller than the wavelengths of light. Khanikaev's ultimate photonics goal: to create metamaterials that let us change how we control light.   
Why is this breakthrough so important right now? Khanikaev says: "As the need to be smaller, faster, lighter, and yet more powerful continues to accelerate, the technology is reaching the limits of what electronics is capable of. The paradigm of how everything works must shift. Metamaterials perform better. They appear to be protected from defects and disorder. They're capable of robust guiding and control of light in three-dimensions, which puts us one step closer to the integration of topological photonics, electronic, and quantum computing. That's the future."
Khanikaev, who joined City College only a year ago, is thankful for all of the support the Grove School of Engineering and CCNY has shown him and he is proud to be part of building a center of photonics excellence. 
About The City College of New York
Since 1847, The City College of New York has provided low-cost, high-quality education for New Yorkers in a wide variety of disciplines. Today more than 16,000 students pursue undergraduate and graduate degrees in eight professional schools and divisions, driven by significant funded research, creativity and scholarship.  Now celebrating its 170th anniversary, CCNY is as diverse, dynamic and visionary as New York City itself. View CCNY Media Kit.
Contact: Rebecca Rivera, (212) 650-5310