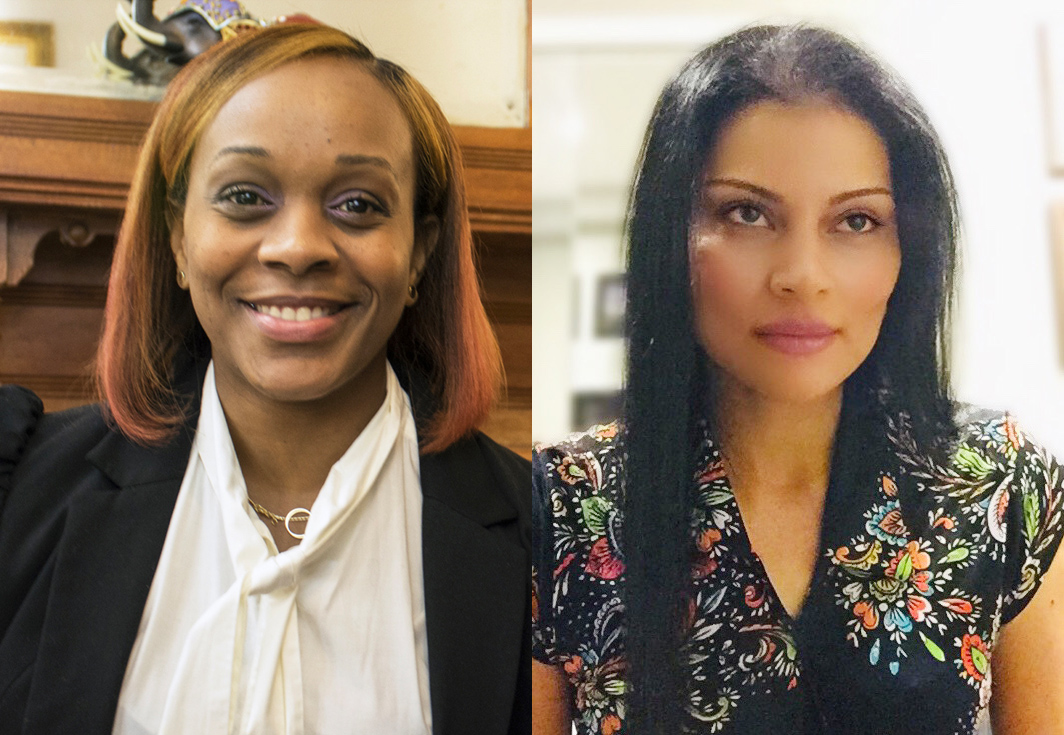 CCNY's Michelle Caines [left] and Sheila Castillo are Women's Forum Education fellowship winners.
Michelle Caines and Sheila Castillo bring to three the number of City College of New York undergraduates at its Division of Interdisciplinary Studies at the Center for Worker Education (CWE) awarded $10,000 Women's Forum Education Fund fellowships in 2020.
The awards are given to high-potential women, age 35 and over, whose education and lives have been disrupted by extreme adversity. They recognize extraordinary and often heroic efforts in overcoming adversity in restructuring lives for success. 
Sandra Serrano, a senior pursuing a BA degree with a concentration in urban studies and public administration, received the honor in the spring. She became the third CWE student in a row named a Women's Forum Fellow. City College has now had five Fellows in five years.
Following are brief bios of CWE's latest Women's Forum Fellows.
Michelle Caines:
The mother of three has overcome PTSD stemming from childhood traumas to co-founding and serving as creative director for Uptown Birdies. The resource that helps parents in Upper Manhattan identify anything from date night eateries to local kids' classes for activities with, and, for their children. A beacon of hope in her community, she's also a youth community organizer, a member of Manhattan's Community Board 9 that encompasses West Harlem; a children's mental health advocate.
Caines' recovery from her childhood traumas effectively began in 2007 when she enrolled in Berkeley College. Later, determined to become her own daycare director, she sought a B.S. in early childhood education from CWE.  She said the fellowship will help her achieve her dreams of being a staple in Harlem, healing and bringing knowledge to children and the community.
"My passion is to combine nature, mindfulness, and art in a storefront daycare, teaching these qualities to the young minds of Harlem. My background and passion will help fight against the rise of anxiety and depression while promoting solidity," she added.
Sheila Castillo:
Raising her special needs son as a single mother posed numerous challenges for Castillo from the beginning. There was unemployment as she took time off from work to care for him. Several incorrect diagnoses of his condition early on drove her to educate herself so that she could become an integral part of the network of professionals and doctors involved in her son's intervention. She decided to pursue a bachelor's degree in disabilities studies at CWE, become a special education teacher in the early childhood field and to acquire an M.S. in education to become a child psychologist.
Working first-hand with her son has taught Castillo greater empathy for children with disabilities. She believes all children deserve the opportunity to strive and a quality education. In order to advocate for special needs children, Sheila believes the most effective tool to accomplish this, is education.

On her odyssey, Castillo said: "It was very challenging, but I don't regret the decisions I've made and this award is a great help. My son has made huge strides and I am very grateful."
About the City College of New York
Since 1847, The City College of New York has provided a high-quality and affordable education to generations of New Yorkers in a wide variety of disciplines. CCNY embraces its position at the forefront of social change. It is ranked #1 by the Harvard-based Opportunity Insights out of 369 selective public colleges in the United States on the overall mobility index. This measure reflects both access and outcomes, representing the likelihood that a student at CCNY can move up two or more income quintiles. In addition, the Center for World University Rankings places CCNY in the top 1.8% of universities worldwide in terms of academic excellence. Labor analytics firm Emsi puts at $1.9 billion CCNY's annual economic impact on the regional economy (5 boroughs and 5 adjacent counties) and quantifies the "for dollar" return on investment to students, taxpayers and society. At City College, more than 16,000 students pursue undergraduate and graduate degrees in eight schools and divisions, driven by significant funded research, creativity and scholarship. CCNY is as diverse, dynamic and visionary as New York City itself. View CCNY Media Kit.