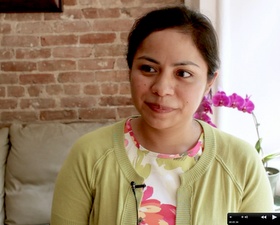 Documentary by Tatyana Kleyn premieres April 30 at CCNY, followed by panel discussion led by President Lisa S. Coico
"I was five months old when I came to this country, but those five months make all the difference in the world." That statement by Arline, an undocumented immigrant and City College of New York undergraduate, opens "Living Undocumented: High School, College and Beyond," a 17-minute film by CCNY Associate Professor of Education Tatyana Kleyn and Ben Donnellon.
Six dreamers, two of whom attend CCNY, share through the film their immigration journeys, their identification, the misconceptions with which they have been confronted and their words of wisdom for other students and educators. As undocumented students, they have been precluded from enjoying the same rights as their friends, such as voting, driving and obtaining working papers so they could get a job.
Professor Kleyn, who came to the United States from Latvia when she was six, said she made the film to help undocumented students in New York State get information that would help them attend college. "I made the film because I wanted to show people that there is help out there for undocumented students and it is possible for them to go to college, although it's not easy," she said.
The film points out that each year approximately 65,000 undocumented students graduate from U.S. high schools, but less than 10 percent of them go on to college.
The film will have its premiere at a sold-out event 5:30 p.m. Tuesday, April 30, in Aaron Davis Hall at W. 135th Street and Convent Avenue on The City College campus. A panel discussion moderated by CCNY President Lisa S. Coico will follow the screening. Its debut comes at a time of heightened interest in immigrant reform; a bipartisan group of eight U.S. senators last week released an 844-page comprehensive immigration reform bill.
In addition to the students' stories, the film discusses the challenges they confront. While New York State allows them to attend SUNY and CUNY colleges at in-state tuition rates, cost remains a barrier for many since they are ineligible for financial aid. It also reviews some of the proposed or existing remedies including the Department of Homeland Security's DACA policy (Deferred Action for Childhood Arrivals) and the DREAM Act.
Professor Kleyn says the film is intended for students of all backgrounds as well as guidance counselors, educators and parents. The film's intent is to help undocumented students understand their situation in New York (and beyond) and make an informed decision about attending college and give students who are U.S. citizens or residents a more holistic understanding of the immigration system.
She has also created a lesson plan and resource guide to accompany the film before classroom showings. The full film and its resources will be available on thewww.LivingUndocumented.com website shortly.
On the Internet