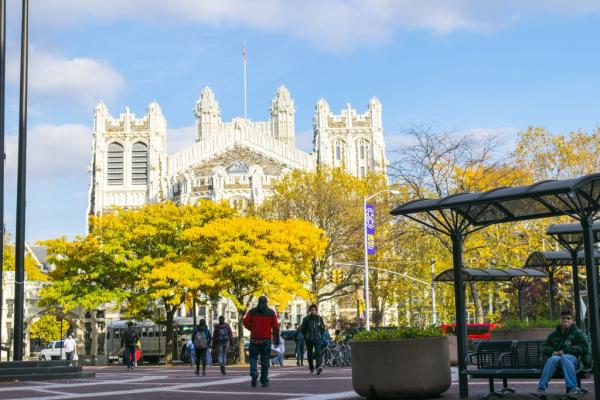 A new transportation and infrastructure program at CCNY has received $400K from CUNY.
The City University of New York is investing $400,000 in a new transportation and infrastructure training program at The City College of New York. The investment follows ongoing efforts to improve equity, representation and access to jobs in the transportation, infrastructure and construction sectors for residents of Harlem, Inwood, Upper Manhattan and the Northwest Bronx.

U.S. Rep. Adriano Espaillat and his predecessor as Representative for New York's 13th congressional district, Charles B. Rangel, applauded the CUNY move.

"For generations, the communities of Northern Manhattan and the Bronx have been largely left out of the lucrative economic benefits of major infrastructure projects," said Espaillat. "Knowing this, and in expectation of forthcoming megaprojects like the Second Avenue Subway extension into East Harlem, Congressman Rangel and I endeavored to bring a minority-focused, affordable transportation and infrastructure training institute to CCNY with the aim of equipping the local community with the means to attain highly-technical, stable, union jobs, and finally capitalize on the cascading benefits of infrastructure investment.
Espaillat hailed CUNY Chancellor Félix V. Matos Rodríguez and Dr. Vincent Boudreau, President of The City College, saying: "This initial funding, and Chancellor Matos Rodríguez and President Boudreau's buy-in to this initiative, speaks volumes to both their leadership and the degree of local inequity in these projects to-date.
"As we build off the inaugural funding for this groundbreaking institute, we will continue to work with partners in the public and private sector to ensure that every stakeholder is utilizing transportation and infrastructure projects to empower local talent and elevating New Yorkers economic standing," he concluded. 
Said former Congressman Rangel: "It is my hope that this initiative would have the impact on the nation as the often referred to Manhattan Project. If America does not meet the technological challenges of today and in the future, we will face challenges not only to our economy but to our national security as well. I hope that this initiative will be a magnet that would allow us to provide the leadership to meet the dramatic needs that we face."
Matos Rodríguez reiterated that CUNY is pivotal in the city's economic life. "As I have said before, New York City's economic recovery runs through CUNY, and this new infrastructure training institute, which aims to create important job opportunities in the transportation and construction sectors in Upper Manhattan and Bronx neighborhoods, where many of our students come from, is evidence of that fact.
"CUNY is thankful for the leadership of Rep. Adriano Espaillat — a CUNY alumnus — and former Rep. Charles Rangel on this project. We're proud to partner with these valued public officials on the creation of this institute at the City College of New York, CUNY's oldest institution. City College, under the leadership of President Boudreau, has contributed billions of dollars to the economy of our metropolitan region; this innovative program promises to add to that impact." 
Boudreau, CCNY's 13th President, lauded Rangel, Espaillat and CUNY for making the new program a reality.

"From the moment Congressman Rangel joined our campus community as a statesmen-in-residence, he talked about an educational program designed to meet the vast needs of America's crumbling infrastructure in a way that provided training and career pathways to residents of historically underserved communities. With Congressman Espaillat's advocacy and support, and CUNY's $400,000 investment in this project, we have taken decisive first steps towards realizing this dream," said Boudreau.

About the City College of New York
Since 1847, The City College of New York has provided a high-quality and affordable education to generations of New Yorkers in a wide variety of disciplines. CCNY embraces its position at the forefront of social change. It is ranked #1 by the Harvard-based Opportunity Insights out of 369 selective public colleges in the United States on the overall mobility index. This measure reflects both access and outcomes, representing the likelihood that a student at CCNY can move up two or more income quintiles. In addition, the Center for World University Rankings places CCNY in the top 1.8% of universities worldwide in terms of academic excellence. Labor analytics firm Emsi puts at $1.9 billion CCNY's annual economic impact on the regional economy (5 boroughs and 5 adjacent counties) and quantifies the "for dollar" return on investment to students, taxpayers and society. At City College, more than 16,000 students pursue undergraduate and graduate degrees in eight schools and divisions, driven by significant funded research, creativity and scholarship. CCNY is as diverse, dynamic and visionary as New York City itself. View CCNY Media Kit.