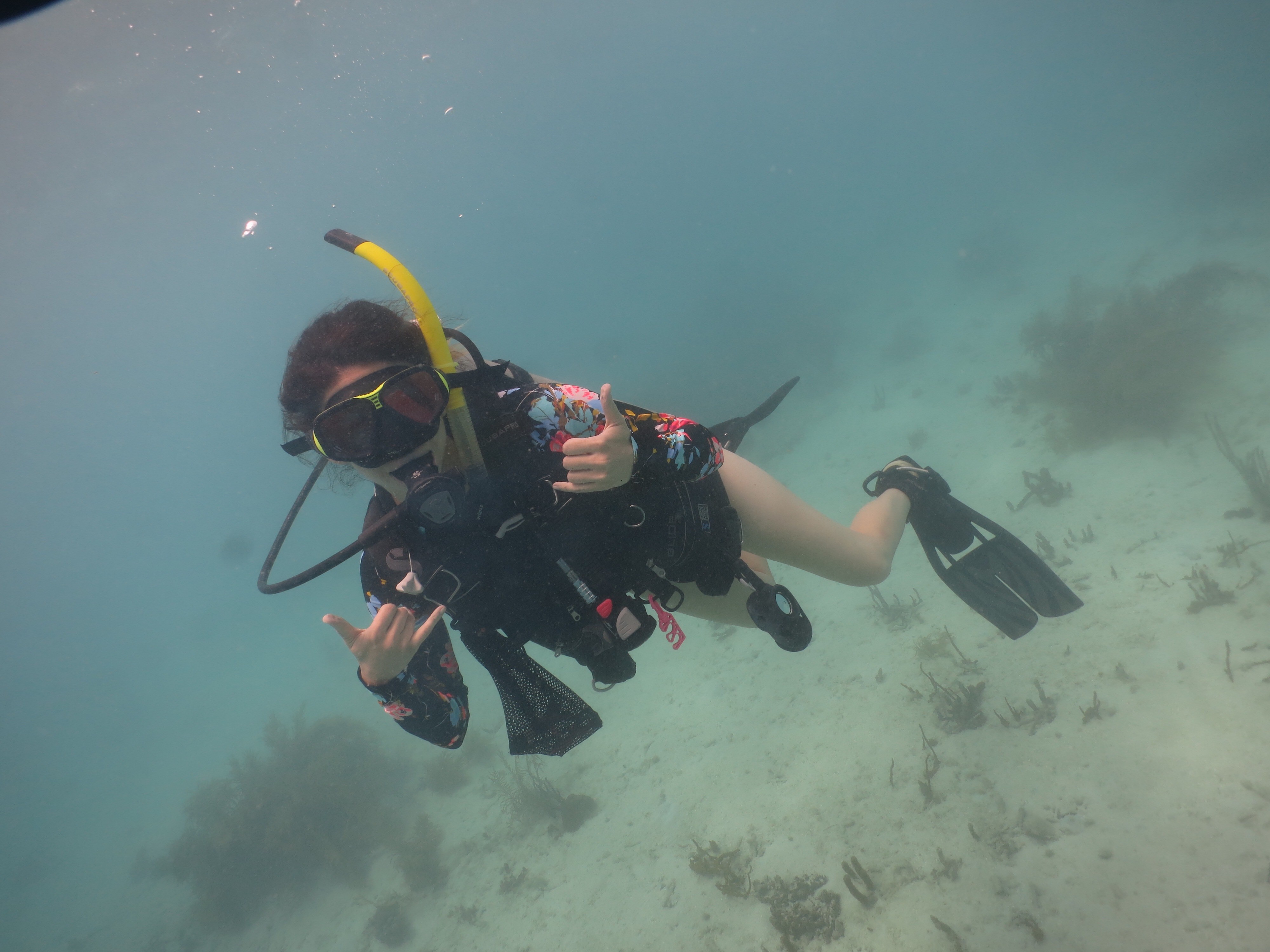 CCNY marine biologist Andrea Gomez is the first NOAA CESSRST Fellow to receive a PhD.
Defying humankind's greatest health crisis in more than a century, The City College of New York's Andrea Gomez used technology to defend her dissertation and became the first NOAA CESSRST Fellow to earn a PhD. She will receive her degree in earth and environmental science from the Graduate Center, CUNY. 

"Doing a remote thesis defense was an interesting experience," said Gomez. "It felt like giving a webinar, and I had never given a virtual presentation before.It was very quiet. There were no coughs in the room. It went well, but I prefer giving live presentations, obviously." 

Her thesis is entitled: "Evaluating Satellite-Based Sea Surface Temperatures and In Situ Observations, and Coral Symbioses in Southwestern Puerto Rico." It   investigates the relationship between NOAA Coral Reef Watch's (CRW) 5km satellite-based sea surface temperatures (SST) product and in-situ temperature loggers deployed at Cayo Enrique and Cayo Mario, in La Parguera, Puerto Rico. It seeks to characterize the seasonal changes of the algae symbionts' identity and density.

Coral play a vital role in sustaining marine ecology and economy by offering various ecological services including, shoreline protection, supporting fisheries, ecotourism, and medical research. However, when they become bleached, and more susceptible to disease, the symbiotic algae living in their polyps are expelled due to temperature (climate) change, land-based pollution, or over-fishing.
Gomez earned a BS in marine biology from the University of California, Santa Cruz in 2011, and a master's in biology from City College's Division of Science (2015). She received NOAA EPP funding to complete her MS degree and was recruited as NOAA CESSRST's first doctoral fellow in 2016.

About NOAA-EPP CESSRST
NOAA Center for Earth System Sciences and Remote Sensing Technologies (CESSRST), a Cooperative Science Center (CSC), was established in 2016 through a national competition and is funded by the National Oceanic and Atmospheric Administration. It is a National leader in STEM workforce development and supporting NOAA mission related to Earth Systems observations, monitoring through application of environmental satellites and ground-based remote sensing technologies. The Center's mission is to educate, train and graduate a new generation of diverse and competent cadre of students, and to create a diverse and skilled workforce in NOAA mission-aligned STEM and social science disciplines through participation in state-of-the-art research. 
About the City College of New York
Since 1847, The City College of New York has provided a high-quality and affordable education to generations of New Yorkers in a wide variety of disciplines. CCNY embraces its position at the forefront of social change. It is ranked #1 by the Harvard-based Opportunity Insights out of 369 selective public colleges in the United States on the overall mobility index. This measure reflects both access and outcomes, representing the likelihood that a student at CCNY can move up two or more income quintiles. In addition, the Center for World University Rankings places CCNY in the top 1.2% of universities worldwide in terms of academic excellence. Labor analytics firm Emsi puts at $1.9 billion CCNY's annual economic impact on the regional economy (5 boroughs and 5 adjacent counties) and quantifies the "for dollar" return on investment to students, taxpayers and society. At City College, more than 16,000 students pursue undergraduate and graduate degrees in eight schools and divisions, driven by significant funded research, creativity and scholarship. CCNY is as diverse, dynamic and visionary as New York City itself. View CCNY Media Kit.