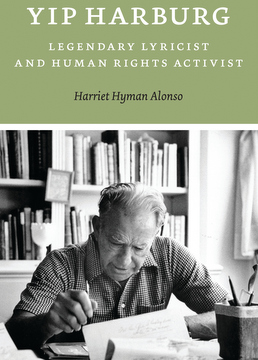 Harriet Alonso's Book is First on Legendary Lyricist in Two Decades
City College of New York Professor of History Harriet H. Alonso has written the first biography in nearly two decades of E. Y. "Yip" Harburg (1896-1981), the CCNY alumnus who enriched the Great American Songbook with such tunes as "Somewhere Over the Rainbow" and "Brother, Can You Spare a Dime?"
In "Yip Harburg: Legendary Lyricist and Human Rights Activist," released November 12 by Wesleyan University Press, Professor Alonso, explores Harburg's life and commitment to social justice through his own words.
"I've been a Yip Harburg fan since I was a young girl," said Professor Alonso, "so I was thrilled when Wesleyan asked me to write about him for their new Music: Interview series. The Press gave me the freedom to determine the shape of the project---as long as it centered on the use of interviews. Of course, the fact that Yip graduated from City College added an extra element of fun to the project."
The interview-based biography enables readers to grasp Yip Harburg's own words about his life and work. He tells of his early childhood as a son of Russian immigrants living on the Lower East Side of Manhattan, his public school education, how the Great Depression opened the way to writing lyrics, and his work on Broadway and in Hollywood, including his blacklisting during the McCarthy era. In addition, Harburg shares his commitment to human rights and the ways it affected his writing and his career path.
As he noted in 1971, "I think I had a predisposition to feeling for the underdog. I grew up in the slums. I know what it is to work in a sweatshop, I know what it is to have your father come home from the sweatshop after working twelve hours a day and greeting you. I know what it is for a neighbor to come and ask for a piece of bread, or what it is to have your rooms emptied by the sheriff and put down because you can't pay the rent.
"I grew up with very poor people on the east side and I knew what they went through. When you know that, you also start thinking about causes, what is the cause for those things. Then you get interested in reading and if you have a chance to go through school and college, which I did only because I was able to fight my way through and work my way through, struggle my way through, then you begin taking courses that will give you an insight into the reason for this poverty, for this thing.
"Well, when you come out, then if you're an artist of any kind you're certainly going to apply the thing that affected you most as a child and that you've seen around you, and the thing that impressed you when you went to college, so that you make a hook up between cause and effect . . . And if you're a writer you'll apply it. Naturally it'll work inside of you. Your creative juices will be working around the thing that either has aggravated you or made you hostile or made you so philosophical and wise that you want to educate others about it, or that you want to laugh at it. There are many . . . several ways that you can react to this thing, especially if you're a man with words, if you're a writer."
Professor Alonso spent approximately three years working on the project, accessing materials from various sources. Among them were numerous interviews Harburg did between 1934 and 1980. Most of them were unpublished and almost all are archived at the Yip Harburg Foundation in Lower Manhattan.  
She also searched out and read other Harburg interviews as well as interviews and memoirs of composers Jay Gorney, Harold Arlen, Burton Lane, Earl Robinson and Vernon Duke, and choreographer Agnes de Mille.
In the end, Professor Alonso provides a biographical and historical framework for the stories that Yip Harburg most liked to relate to his public. In effect, she allowed his words to lead her through his life, which resulted in an unusual collaboration between a living historian and her long-deceased subject.
The result is a book of more than 300 pages that last summer "Publishers Weekly" listed as one of the top ten forthcoming titles in the performing arts. "In this detailed, entertaining account," a subsequent review noted, "Alonso gives life to a courageous man and artist who risked it all for some simple human truth."
Interspersed throughout the book are more than 40 lyrics that Harburg, known as "Broadway's Social Conscience," discusses in terms of their origins and/or their social meaning. Among them: the aforementioned "Somewhere Over the Rainbow," and "Brother, Can You Spare a Dime?" plus "April in Paris," "How are Things in Glocca Morra?" and "Leave de Atom Alone."
The official launch for "Yip Harburg: Legendary Lyricist and Human Rights Activist" is at 6:30 p.m., Tuesday, November 27 at an event at the CUNY Graduate Center sponsored by the Gotham Center. It will be open to the public.
Professor Alonso is the author of four other books, including "Growing Up Abolitionist: The Story of the Garrison Children" (University of Massachusetts Press, 2002), which received the 2003 Warren F. Kuehl Book Prize from the Society for Historians of American Foreign Relations. She also wrote "Robert E. Sherwood: The Playwright in Peace and War" (University of Massachusetts Press, 2007), for which she received an NEH Research Fellowship.
On the Internet: