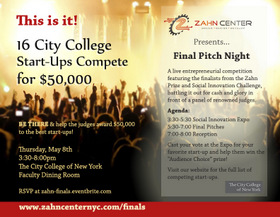 Sixteen City College start-up enterprises are competing for $50,000 in prizes at the Zahn Innovation Center's Final Pitch Night. The event runs 3:30 – 8 p.m. Thursday, May 8, in the Faculty Dining Room, Third Floor, North Academic Center on The City College of New York campus.
Five teams of semi finalists are vying for the $20,000 Zahn Prize. It is given to a for-profit business team that best develops and implements their entrepreneurial ideas and also demonstrates understanding of how to incorporate lean startup principles as they develop their business idea.
Twelve teams were chosen as semi finalists for the new Social Innovation Challenge competition, which awards $30,000 in prizes, including a $1,000 audience choice award. Participating teams will pitch their big ideas on how to change the world through social enterprise and is open to sustainable for-profit and non-profit concepts.
The event begins with a Social Innovation Expo from 3:30 to 5:30 p.m. at which audience members can vote for their favorite ideas. This is followed by the final pitches, from 5:30 to 7 p.m., and a reception and announcement of the winners from 7 to 8 p.m.
The event is free and open to the public, however an RSVP is required. To RSVP, go to: http://bit.ly/1k9qiYL. List of semi finalists and competition judges can be found on the Zahn Center website.
The Zahn Prize and the Social Innovation Challenge are supported by gifts to the City College Fund from theMoxie Foundation.
About The City College of New York
Since 1847, The City College of New York has provided low-cost, high-quality education for New Yorkers in a wide variety of disciplines. More than 16,000 students pursue undergraduate and graduate degrees in: the College of Liberal Arts and Sciences; the Bernard and Anne Spitzer School of Architecture; the School of Education; the Grove School of Engineering; the Sophie Davis School of Biomedical Education, and the Colin Powell School for Civic and Global Leadership. U.S. News, Princeton Review and Forbes all rank City College among the best colleges and universities in the United States.
About The City College Fund
The City College Fund is a tax-exempt 501c(3) non-profit fundraising organization, established in 1946 to support The City College of New York in its mission to provide access and excellence in higher education, particularly to students who might not otherwise be able to afford to go to college. Gifts to The City College Fund directly benefit City College's extraordinary students, renowned faculty, innovative programs and schools.