Nancy R. Tag
BIC Program Director/Professor
Additional Departments/Affiliated Programs
Areas of Expertise/Research
Advertising
Branding and Integrated Communications
Public Relations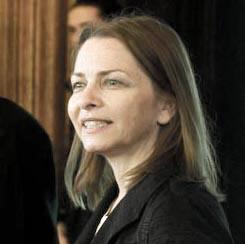 Nancy R. Tag
Profile
Nancy R. Tag has been a Creative Director at various advertising agencies throughout New York City where she's overseen a distinguished roster of clients which include ING Financial Services, Procter & Gamble, The Waldorf-Astoria, Shiseido Cosmetics, Seiko, Canon, and Aruba Tourism. She sat on the New York Board of Directors at Dentsu America. As a principal in the advertising partnership Tag | Scordato, Nancy's traveled from Tokyo to Toronto to work with such distinctly different clients as Yamagataya Nori (seaweed), The Globe & Mail, and Molson's Golden Ale. In addition to winning numerous industry awards, two of her television commercials have been inducted into the permanent collection on advertising at the Museum of Modern Art in NYC.

Before coming to City College, Professor Tag taught advertising to potential copywriters, art directors and design managers at Parsons School of Design where she twice received the Henry Wolf Award for Teaching Excellence. She's also taught in the Baker School of Business and Technology College at FIT. In 2007, she was the recipient of a CCNY Presidential Junior Faculty Leadership & Service Award as well as a Colin Powell Fellowship. She received the President's Award for Outstanding Faculty Service in 2018. Professor Tag is a graduate of the University of Pennsylvania with a Masters in Media Studies from New School University.
Courses Taught
MCA B2002 Idea Development 
MCA B3202 Corporate Capstone
MCA B2057 Portfolio Thesis: Management/Planning
Special Topic: Dynamic Content
Special Topic: Tech for non-Techies
Special Topic: Journalism in the Age of Sponsored Content
MCA 363 Advertising Copywriting
MCA 376 Advertising Planning
MCA 468 ad/PR Workshop
Publications
Co-Principal Investigator and Mentor  (Gerardo Blumenkrantz, PI) of a 3-year U54 NIH Grant partnering with Memorial Sloan Kettering to increase vaccination rates for HPV among Mexican children: "Social Marketing and Technology to Increase HPV vaccination Rates Among Mexican American Children: A Randomized Controlled Trial" -- $750,000 (with $340,000 split to CCNY). 2014
"Not Everyone's a Critic…but They Should Be." By Tag, N.  The Get a Job Workshop: How to build a creative career in Advertising, Branding, Collateral, Digital, Experiential, & More. New York City: The Copy Workshop. 2013.
Tag, N.  AdCrit: Deconstructing Ads in Order to Build Better Advertising. New York City: Sage Publications. 2012.  
Feeley, T., Watkins, B., Rivera, J., Tag, N.,  & Volpe, L. (2009) "A Peer-to-Peer Campaign to Promote Organ Donation among Minority College Students in New York City."  Journal of National Medical Association.Vol. 101, No.11. 2009
Additional Information
"Finding Your Voice: Adding Brand Value to Community Health Organizations." A series of webinars for the New York Academy of Medicine, New York City. 2017-2018.
Silicon Harlem NEXT Gen Tech 2017 Conference. Featured panelist on a session entitled Attention! Content that Captivates: "With the explosion of digital and social channels in an ever-changing media landscape, our attention spans are severely reduced, and keeping up with media trends and issues is challenging." New York City. 2017
Disruptor Podcast. Interviewed by TBWA/Chiat/Day CEO Rob Schwartz as part of a podcast featuring "people disrupting business, culture and life." New York City. 2017
"American Ingenuity and Spanish Creativity: The History of Behance, the Digital Platform that Tore Down the Wall Between Artistic Talent and the Global Marketplace." Gerardo Blumenkrantz, Nancy Tag, and Francisco Uceda. The 3rd International Conference on     Historical Links Between Spain & North America, Universidad de Alcala, Madrid, Spain. 2017
"Branding and Integrated Communications in New York: the Media Capital of the World." Presentation at the Latin American Congress of Design Teaching Conference, University of Palermo, Buenos Aires, Argentina. 2016.  
"Critique Skills as a Business Basic." Presentation at the International Conference on Communication, Design, Technology & Media in Istanbul, Turkey. 2012
"The Big Idea. How to Create an Integrated Marketing Communications Campaign." Presentation at the CUNY Graduate Center on behalf of the Healthy CUNY Initiative. 2011
"Transforming Semester-long Projects into Sustainable Relationships." Annual Symposium for Strengthening Service-Learning Connections Across New York City, sponsored by New York Metro Area Partnership for Service-Learning (NYMAPS) and New York Campus Compact. Presented at Barnard College. 2010.
"Effective Super Bowl Commercials." Research, analysis, script writing, and PowerPoint presentation on the effectiveness of the 2008 Super Bowl commercials. Presented at Del Monte Corporation, San Francisco. 2008.
"How to Effectively Evaluate Integrated Promotions." Research, analysis, and Power Point presentation on five measurements of effective promotional campaigns. Presented at Del Monte Corporation, San Francisco. 2008.