Shira E. Epstein
Associate Professor
Program Director
Main Affiliation
School of Education
Additional Departments/Affiliated Programs
Teaching & Learning
English Education
Social Studies Education
Building
North Academic Center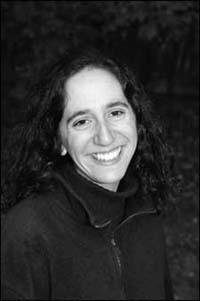 Shira E. Epstein
Profile
Shira Eve Epstein entered the field of education as a middle school teacher in New York City and has since worked in various middle and high schools in the city supporting teachers in their work. 
She joined CCNY's School of Education in Fall 2008.  She is the director of the Social Studies Education Program and teaches graduate and undergraduate English education courses in teaching methods, curriculum design, literacy development, and other topics. 
In her research, she explores different forms of civic education and how teachers and students address social problems during the school day and during out-of-school programs.  Her writing investigates topics including the relationship between English Language Arts standards and social action curriculum and the development of students' social imaginations.  She has also studied the use of race talk with teachers and youth and the possibilities of multicultural education.  Her work can be found in journals including The Journal of Social Studies Research, English Journal, The Urban Review, and Journal of Teacher Education.  Her first book, Teaching Civic Literacy Projects:  Student Engagement with Social Problems, was published by Teachers College Press in 2014.
Education
Ed.D.  in Curriculum and Teaching, May 2007, Teachers College, Columbia University
M.A.   in Curriculum and Teaching, May 2003, Teachers College, Columbia University
B.A.    in English and History, May 1999, Rutgers College, Rutgers University
Courses Taught
EDSE 1100E (grad)/EDSE 44100 (undergrad) –Methods of Teaching Secondary English
EDSE 7300E (grad)/EDSE 45101 (undergrad) –Curriculum Development in Secondary English
EDSE 2300E (grad)/EDSE 45102 (undergrad) - Curriculum Development for Secondary Social Studies
EDSE 1200E (grad)/EDSE 41200 (undergrad) - Reading and Writing Across the Curriculum
ENGLE 4200C - Reading Non-Fiction Texts
PSCE 6200C - Civic Participation of Youth
And others
Research Interests
Civic literacy
Urban education
Multicultural education
Publications
Some of Professor Epstein's publications include:
Epstein, S. (2019).  Liberation psychology and urban civic education.  Citizenship Teaching and Learning. 14(1), 47 - 65.  

Epstein, S. & Lipschultz, J. (2017).  Talking about schools:  Fourth and fifth graders address segregation and equity.  Social Studies and the Young Learner. 30(1), 27 – 32.

Epstein, S. (2017).  Supporting global awareness:  A proposal for youth civic engagement.  Schools: Studies in Education.  14(1), 141 – 154.

Ratner, A. & Epstein, S. (2016).  A vision of possibility:  The role of cooperating teachers in preparing the next generation of audacious educators.  The English Record.  67(1), 43 – 60.

Epstein, S. & Ratner, A. (2015).  "How can I help?"  Secondary education classrooms as sites for service and learning.  Issues in Teacher Education. 24(2), 101 – 118.

Epstein, S. (2014).  Teaching civic literacy projects:  Student engagement with social problems.  New York:  Teachers College Press. 

Epstein, S. (2013).  Independent voices, social insight, and action:  An analysis of a social action project.  The Journal of Social Studies Research. 37, 123 – 136.

Epstein, S. & Lipschultz, J. (2012).  Getting personal?  Student talk about racism.  Race Ethnicity and Education, 15(3), 379 – 404.

Epstein, S. (2010).  Activists and writers:  Student expression in a social action literacy project.  Language Arts 87 (5), 363 - 372.

Agarwal, R., Epstein, S., Oppenheim, R., Oyler, C., Sonu, D. (2010).  From ideal to practice and back again:  Beginning teachers teaching for social justice:  Negotiating the status quo.  Journal of Teacher Education 6(3), 237 – 247.  

Epstein, S. (2010).  "Who are your friends?"  Complexities in multicultural education.  The Urban Review 42(1), 39 – 57. 

Epstein, S. (2009).  "To carve out new orders in experience":  Imagination in a social action literacy project.  English Journal 99(2).