CIPASS Experiential Learning Symposium in the Great Hall
Students participated in a one week education boot camp with CIPASS interns, completed their summer internships, and attended the CIPASS capstone symposium.
From left to right: SLPE students Diana Yauri, Tiana Lewis, Aristotle Aung, Rafael Cruz
Summer 2022 Science Learning & Public Engagement Internships
This summer our students are interning at the Natural Areas Conservancy, New York City Parks, American Museum of Natural History, and at CCNY's planetarium. 
Science Learning & Public Engagement student Diana Lauri (left) with another Natural Area Conservancy's Summer 2022 CUNY intern pull up mugwort, an invasive species in NYC. By removing these plants, they are giving native meadow plants in Idlewild Park in Queens a chance to thrive.
 SCI 12600: Principles of Environmental Science Visits the Hudson River
On May 5th, 2022 the Principles of Environmental Science class led by Prof. Stephanie Rose sampled Hudson River water to test for microplastics. Jesse Koranteng, a student shows how they collected water samples (video).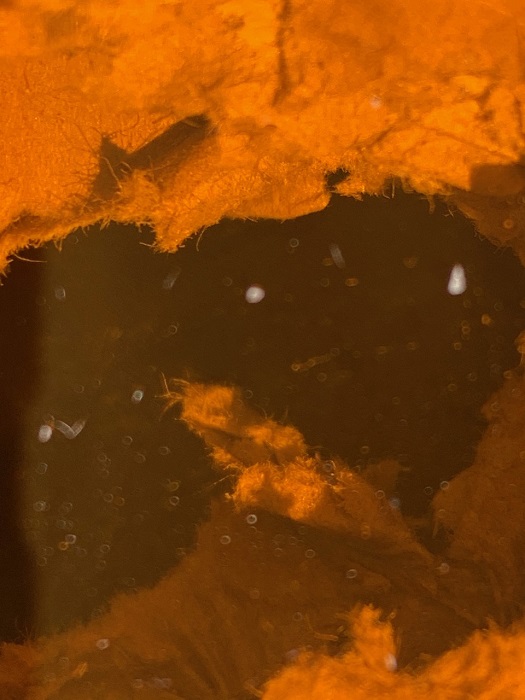 A Hudson River water sample stained with Nile red. The white fluorescent spots are microplastics. Testing protocol developed by Sarah Davis, a course guest speaker and founder of Mapping Microplastics.
Sustainability Fair held Tuesday, April 26th, 2022
The Science Learning & Public Engagement program hosted a table at CCNY's Sustainability Fair on April 26th.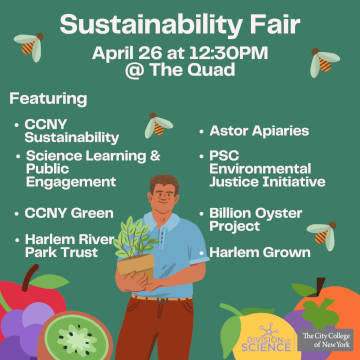 Left to right: Artiola Islami (SLPE major, Biology Concentration), Prof. Yael Wyner, and Aristotle Aung (SLPE major, Physics Concentration)
The Science Learning & Public Engagement Career Paths Panel Press release
To inspire current students pursuing careers in non-formal science, the School of Education hosted a career panel featuring professionals and CCNY alumni who spoke about their non-formal science career journeys.
Panelists are from left to right: Mariza Dannang, (Green Girls student intern), Adriana Caminero (NYC Parks),  Malika Khalsa (Salvadori Center), Jaileen Jaquez (American Museum of Natural History, CCNY alumnus) and Artiola Islami (NY Aquarium student intern)
Last Updated: 08/17/2022 14:12