Admissions
Film and Video Production
Twenty-five students are accepted into the BFA program each year with the curriculum of study beginning in the fall semester. Students are admitted to the program through an application process and by meeting the admissions criteria. The program does not accept first semester freshman and most students start the program in their sophomore or junior year.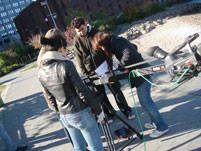 Admissions Overview
Because the BFA program of study begins each fall, students must apply in the spring semester preceding the fall semester they wish to start. Students must have completed or be in the process of completing MCA 10100, 10500, and 12100 when applying to the program as well as meet the admissions criteria described below. Transfer students from other media programs may receive transfer credits for these pre-requisite courses subsequent to a transcript evaluation done by the BFA program. If you are not a student at CCNY or you are a transfer student, please see an adviser in the Office of Admissions.
 
Any student wishing to major in the BFA program must apply separately to the program by filling out an
application form
. 
APPLICATION DEADLINE: MAY 19TH
Transfer students should take particular care in coordinating their transfer to the college, applying to the BFA Film & Video Program, and satisfying the three pre-requisite courses needed to apply to the program . Students should first get a transcript evaluation of their general education courses done through the academic advisors in the Division of Humanities and Arts. If you are transferring from another film and video program or have taken courses related to the BFA program, you must then get your course work evaluated through the academic advisors in the BFA program to determine if any transfer credits can be applied to the three pre-requisite courses, or for any other courses in the BFA curriculum.
Admissions Criteria and Creative Portfolio
Students are evaluated and admitted to the program based on 4 criterion:
Creative Portfolio*

Personal Statement

Grade of "C" or better in MCA 10100, 10500 and 12100

2.7 cumulative G.P.A. (B-)**
*Portfolio
The creative portfolio should consist of film/video work that you have had major creative input on. Having a polished, professionally created portfolio is not a criterion but material on it should demonstrate basic technical ability and a sense visual storytelling. Material for the portfolio can come from projects created in MCA 10500 Intro to Media Production, projects done in other courses, programs or schools, or projects done outside of school.
The portfolio should not exceed 10 minutes and it should represent your best work.
Therefore quality of work, not quantity, is valued the most.
**GPA
The GPA is determined after grades are posted at the end of the spring semester. At the time you submit your application, which will occur before spring semester grades are turned in, simply put down your current cumulative GPA. The BFA program will double check your academic transcript once spring grades are submitted.