The BFA in Film and Video Production Admissions Deadline for Fall 2023 is April 21st, 2023 
Applications will be Available on January 25th, 2023
Students must make a special application and be accepted in order to join the BFA Program each year. Twenty-five students are accepted into the BFA program each year with the curriculum of study beginning in the fall semester. Once again, students are admitted to the program through an application process and by meeting the admissions criteria, which are listed below. The program does not accept first-semester freshman and most students start the program in their sophomore or junior year. All applications are reviewed after the deadline; there is no priority given to applications submitted before the deadline.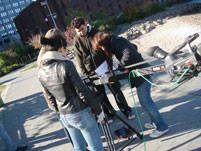 Admissions Overview
The BFA in Film/Video is a second-tier admission program. Interest in film and admittance to City College does not guarantee entrance into the program. All students must apply separately to the program in May for admittance the following September. There are no admissions for the Spring.
Please note that students admitted to City College in their first-year as "BFA Film majors" have only provisional status so they may take the 3 pre-requisite courses; they must then apply to the BFA in Film and Video program and be accepted in order to join the major.
To apply you need to submit a creative portfolio, write a personal statement and have taken three pre-requisite courses (Intro to Media Production (MCA10500), Intro to Film Studies (MCA12100) and Intro to Media Studies (MCA10100). 
Applicants will be interviewed at the discretion of the department.
Transfer students from other media programs may receive transfer credits for all or some of these pre-requisite courses subsequent to a transcript evaluation done by the BFA program. If you are not a student at CCNY or you are a transfer student, please see an adviser in the Office of Admissions****
(transfer students read detailed information below)
Application Review and Decisions
Any student wishing to apply must fill out the Application, found in the Application Form page AFTER February 1st. 
APPLICATION DEADLINE: April 24th. Decisions will be made by the end of May, 2022.
Admissions Criteria and Creative Portfolio
Students are evaluated and admitted to the program based on 4 criteria:
Creative Portfolio*
Personal Statement**
Two-page writing sample (class paper or academic essay).
For Fiction Track Applicants only- Short screenplay sample, properly formatted.
Grade of "B" or better in MCA 10100, 10500 and 12100
2.7 cumulative G.P.A. (B-)***
Potentially an interview. 
Application Questions
Please address any questions about the application process to David Ranghelli, Assistant to the Chair; Coordinator of BFA in Film Admissions.
PH: 212-650-5726 E-MAIL: dranghelli@ccny.cuny.edu
_________________________________________________________________________________
*Creative Portfolio
The creative portfolio should consist of film/video work that you have had major creative input on. Having a polished, professionally created portfolio is not a criterion but material on it should demonstrate basic technical ability, a sense of visual storytelling and if possible your unique voice. Material for the portfolio can come from projects created in MCA 10500 Intro to Media Production, projects done in other courses, programs or schools, or projects done outside of school. The portfolio should not exceed 10 minutes and it should represent your best work. Therefore quality of work, not quantity, is valued the most.
** Personal Statement
In one page or less, tell us a little bit about yourself. What about your background and experiences compels you to want to be a visual story teller? Which are you interested in: documentary or fiction? What unique perspective do you bring, what stories do you want to tell and why?  Include any relevant personal, academic, or professional information that will give us a more complete understanding of who you are and your potential to succeed in the program.
***Essay Writing and Screenwriting Samples
The essay should be a composition you wrote for one of your academic courses and submitted, with proper essay formatting (MLA or Chicago Style). The sample short screenplay can be 3-5 pages, and should be properly formatted, and focus on a story with a main character who needs or wants to solve a situation by taking action.
****GPA
Your GPA is determined after grades are posted at the end of the spring semester.  You will be submitting your application before those grades are turned in, so simply put down your current cumulative GPA. The BFA program will double check your academic transcript once spring grades are submitted.
*****Transfer Students
Transfer students wishing to apply to The BFA in Film and Video Program must also apply to and be accepted by The City College of New York.  This is a separate application. For information about applying to the City College of New York, click here or paste this link into your browser: https://www.ccny.cuny.edu/admissions/transfer-students
PRIOR TO APPLYING TO THE BFA in FILM/VIDEO: Transfer students need to make sure that film/video classes they have taken are equivalent to the three pre-requisite courses needed to apply to the program.
Students should first get a transcript evaluation of their general education courses through the academic advisors in the Division of Humanities and Arts.  Then if you are transferring from another film and video program or have taken courses related to the BFA program, you must get this course work evaluated by an academic adviser in the BFA program to determine if any transfer credits can be applied.  All students must have the three pre-requisites (or approved equivalents) in order to qualify for admission.
Last Updated: 09/14/2022 17:13