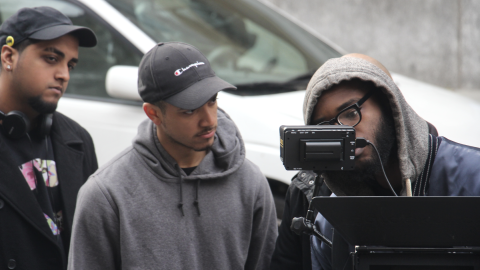 BFA in Film and Video Production Program
APPLICATION DEADLINE: April 24 - Fall Semester
Links will be posted in February for "How-To-Apply" Info Sessions.
About the Program
First established in 1941 as the Masters Institute of Film Techniques, the mission of the BFA in film/video is to teach the art and craft of filmmaking, to explore the history and theory of film and video, and to provide intensive hands-on experience in fiction and documentary media production. Embedded in a humanities education, the program nurtures students to discover their unique voice and provides them with the knowledge and diverse skills to enter an ever-changing media world.
Courses in screenwriting, directing, producing, camera, sound, and editing prepare students to produce their thesis films in the second year. Students also take critical studies courses in the history, theory, and aesthetics of cinema to inform and contextualize their production skills.
The more things change, the more things stay the same. Working with technology is an important and integral part of the learning experience. As a program, however, we also understand that regardless of what camera you shoot on or what editing software you use, good storytelling is still the goal.
Undergraduate students in the BFA Film and Video program use a range of pro-sumer flash card HD video cameras such as the Panasonic HMC-160. A variety of location lighting, grip, and sound recording equipment is provided for classroom assignments and student projects. Editing facilities consists of two non-linear digital editing labs using Premiere editing software and Macintosh computer systems. In addition, the department has two large lecture classrooms that can project film or video, two production studios with lighting and grip equipment, a "black box" theatre space that can also project film or video, and a resource center / conference room.
The MCA Department
Shepard Hall, Room 472
160 Convent Avenue

New York, NY 10031

e:  mca@ccny.cuny.edu
p: 212-650-7167
Assistant to the Chair & Coordinator of BFA in Film Admissions
Shepard Hall, Room 472A
160 Convent Avenue

New York, NY 10031

e:  dranghelli@ccny.cuny.edu
p: 212-650-5726