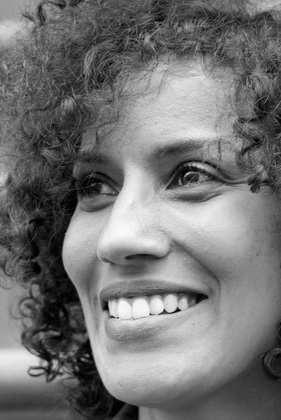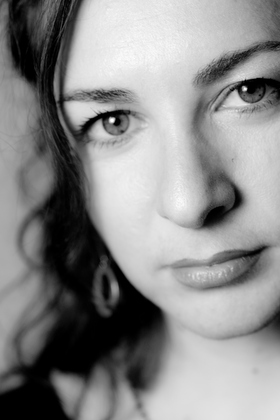 Aracelis Girmay and Elana Bell are featured guest poets
Award-winning poets Aracelis Girmay and Elana Bell will be the featured guest poets for the 42nd annual City College Poetry Festival, presented by the City College Poetry Outreach Center. The all-day, all-verse event runs 9:15 a.m. to 5 p.m. Friday, May 9, in Theater B of Aaron Davis Hall, 135th Street and Convent Avenue on the CCNY campus. Dubbed "the Woodstock of the Spoken Word," the festival has become New York's longest-running poetry celebration. 
"The City College Poetry Festival is the democratic voice of poetry in New York City public schools," said Pamela Laskin, a lecturer in the City College English department and director of the CCNY Poetry Outreach Center, which produces the festival. "Its assumption is there are many poets, and they all have terrific stories to tell. This would make Walt Whitman proud."
Upwards of 150 students from as many as 50 schools are expected to recite their poems at this year's festival. The festival is "something the children always look forward to," said Norma Dunkley, a teacher at P.S. 368 in Brooklyn, who has attended the festival for more than10 years. "It's a blessing, something that is real to them, and it's an entire year of poetry for the children, leading up to this celebration."
The event commences with readings by elementary school students, followed by poets from junior high schools. Beginning around 12 noon, the winners of the festival's citywide high school poetry contest will recite their poems, with the top three winners receiving the Knopf Publishers Prize, which awards cash prizes.
Readings by the featured guest poets Elana Bell and Aracelis Girmay will follow. The festival concludes with college students, alumni, faculty and published poets from around the country reading their works between 2 p.m. to 5 p.m.
In addition to the Knopf Publishers Prize, the festival presents a special award for the best poem in a language other than English. Reflecting the diversity of New York City and of City College, poems have been submitted to the festival in almost 20 different languages over its history.
About the Guest Poets
Elana Bell's first collection of poetry, Eyes, Stones (LSU Press, 2012) won the 2011 Walt Whitman Award from the Academy of American Poets. As a poet, performer and educator, she strives to create a space where all people's voices and stories are heard and deeply valued. Elana leads creative writing workshops for women in prison, for educators, for high school students in Israel-Palestine and throughout the five boroughs of New York City, as well as for the pioneering peace building and leadership organization, Seeds of Peace. To find out more please visit www.elanabell.com.
Aracelis Girmay is the author/illustrator of "Changing, Changing" and the poetry collections "Teeth" and "Kingdom Animalia," for which she was awarded the GLCA New Writers Award and the Isabella Gardner Award respectively."Kingdom Animalia" was also finalist for the National Book Critics Circle Award. Girmay teaches at Hampshire College and in Drew University's low-residency MFA program.
Previous guest poets include: Paul Simon, Allen Ginsberg, Adrienne Rich, Billy Collins, Cornelius Eady and, most recently, Tom Sleigh.  
Festival Sponsors
Alumni Association of The City College of New York, Don Jordan, executive vice president;
Axe-Houghton Foundation;
City College Auxiliary Enterprises Corp.;
City College Fund, Elena Sturman, executive director;
City College English Department, Renata Miller, chair;
City College Office of Government and Community Affairs, Karen Witherspoon, vice president;
City College School of Education: Professors Andrew Ratner, Shira Epstein and Elizabeth Rorschach;
David and Harianne Wallenstein;
Dean Eric Weitz and Office of the Humanities;
Gladys Krieble Delmas Foundation;
Grove School of Engineering, Gilda Barbarino, dean;
Knopf Publishers;
Office of City College President Lisa S. Coico;
Peter Russell;
Poetry Society of America;
Provost Maurizio Trevisan;
Poets & Writers, Inc.;
South Wind Foundation;
Weissman Family Foundation
For more information about the 42nd CCNY Spring Poetry Festival, please contact Pamela L. Laskin at 212-650-6356 or visit the Poetry Outreach Center online.
About The City College of New York
Since 1847, The City College of New York has provided low-cost, high-quality education for New Yorkers in a wide variety of disciplines. More than 16,000 students pursue undergraduate and graduate degrees in: the College of Liberal Arts and Sciences; the Bernard and Anne Spitzer School of Architecture; the School of Education; the Grove School of Engineering; the Sophie Davis School of Biomedical Education, and the Colin Powell School for Civic and Global Leadership. U.S. News, Princeton Review and Forbes all rank City College among the best colleges and universities in the United States.