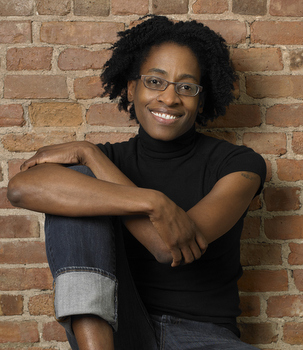 "The Woodstock of the Spoken Word," City College of New York's annual poetry festival, celebrates its 45th year May 12 with more than 150 participants from up to 50 schools and award-winning author and poet Jacqueline Woodson the guest of honor. The all-day, all-verse event, 9:15 a.m. to 5 p.m., is New York's longest-running poetry celebration and will be held in the Marian Anderson Theater located in City College's Aaron Davis Hall.
"The City College Poetry Festival is the democratic voice of poetry in New York City public schools," said Pamela L. Laskin, a lecturer in the CCNY's English department and director of the CCNY Poetry Outreach Center.  "Its assumption is there are many poets, and they all have terrific stories to tell. This would make Walt Whitman proud."
Some of the children who participated in the festival's early years are now teachers who bring their classes.
"In 1975, I introduced a third grade student to the audience of cheering students, teachers, friends and family," recalled Barry Wallenstein, CCNY professor emeritus and former festival director. "In 1996, this same individual returned to the festival at City and introduced the readers from her fourth grade class."
The festival offers the Knopf Publishers Prize to the top three winners and a special award to the best poem in a foreign language.  In addition to a reading by Woodson, there will readings by college students, faculty, alumni and published poets.
Click here for more information or please contact Pamela L. Laskin at (212) 650-6356.
About The City College of New York
Since 1847, The City College of New York has provided low-cost, high-quality education for New Yorkers in a wide variety of disciplines. More than 15,000 students pursue undergraduate and graduate degrees in eight professional schools and divisions. View CCNY Media Kit.