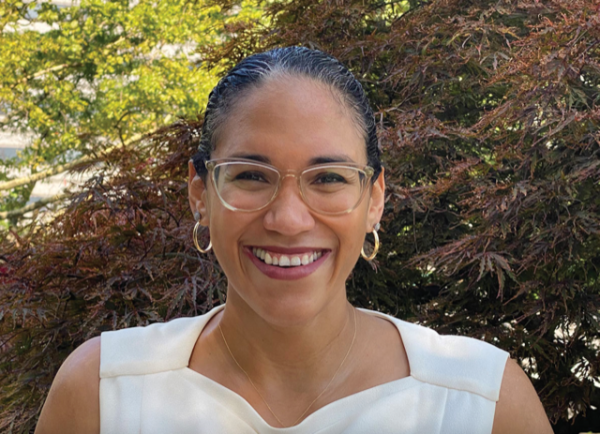 CCNY Associate Provost Vanessa Valdés has been selected to the Class of 2023 Women inPower fellowship program for rising leaders.
Vanessa K. Valdés, associate provost for Community Engagement at The City College of New York, is one of 30 "rising leaders" in the 2023 Class of Women inPower, a fellowship program aimed at advancing women to the highest levels of leadership across all sectors. The recognition is from the 92nd Street Y, New York's Belfer Center for Innovation & Social Impact. 
The Fellows were selected from a competitive pool of hundreds of applicants. They include leaders from a wide variety of backgrounds and professions, including business, nonprofits, law, medicine, media, human resources, finance, arts, education, philanthropy, and startups.
The program provides women-identifying leaders with professional development, executive mentorship, CEO workshops, and participation in an active community of leaders. The program encourages Fellows to think ambitiously about not only their career path and success, but creating a healthier and more egalitarian society for all.

"Women have made remarkable strides climbing the corporate ladder and reaching unprecedented milestones in the workplace. However, there is still a lot of work to be done before we see equity in leadership roles." said Rebekah Shrestha, Senior Vice President & Managing Director of the Belfer Center for Innovation & Social Impact. "For this reason, we are thrilled to welcome the class of 2023 Women inPower Fellows and renew our commitment to investing in extraordinary women who actively serve their communities, and to support them on their path to ascend to ever higher positions of power."

Click here for more information about the Women inPower program.

Previously director of The City College's Black Studies Program, and interim dean of the Macaulay Honors College at CUNY, Valdés began to serve as associate provost for Community Engagement at CCNY this fall. In this role, she engages with community leaders on issues and programs of mutual interest and benefit to the CCNY. She provides vision, direction, coordination and leadership for campus-community partnerships and programs that originate from or are administered by the Provost's Office.
 
A graduate of Yale and Vanderbilt universities, Valdés is a professor of Spanish and Portuguese. Her research interests focus on the cultural production of Black peoples throughout the Americas: the United States and Latin America, including Brazil, and the Caribbean. She is the editor of "The Future Is Now: A New Look at African Diaspora Studies," and "Let Spirit Speak! Cultural Journeys through the African Diaspora."  She is the author of "Oshun's Daughters: The Search for Womanhood in the Americas," and "Diasporic Blackness: The Life and Times of Arturo Alfonso Schomburg." Her latest book, "Racialized Visions: Haiti and the Hispanic Caribbean," is an edited collection that re-centers Haiti in the disciplines of Caribbean, and more broadly, Latin American Studies.   

About the City College of New York
Since 1847, The City College of New York has provided a high-quality and affordable education to generations of New Yorkers in a wide variety of disciplines. CCNY embraces its position at the forefront of social change. It is ranked #1 by the Harvard-based Opportunity Insights out of 369 selective public colleges in the United States on the overall mobility index. This measure reflects both access and outcomes, representing the likelihood that a student at CCNY can move up two or more income quintiles. Education research organization DegreeChoices ranks CCNY #3 nationally for social mobility. In addition, the Center for World University Rankings places CCNY in the top 1.8% of universities worldwide in terms of academic excellence. Labor analytics firm Emsi puts at $1.9 billion CCNY's annual economic impact on the regional economy (5 boroughs and 5 adjacent counties) and quantifies the "for dollar" return on investment to students, taxpayers and society. At City College, more than 15,000 students pursue undergraduate and graduate degrees in eight schools and divisions, driven by significant funded research, creativity and scholarship. This year, CCNY launched its most expansive fundraising campaign, ever. The campaign, titled "Doing Remarkable Things Together" seeks to bring the College's Foundation to more than $1 billion in total assets in support of the College mission. CCNY is as diverse, dynamic and visionary as New York City itself. View CCNY Media Kit.