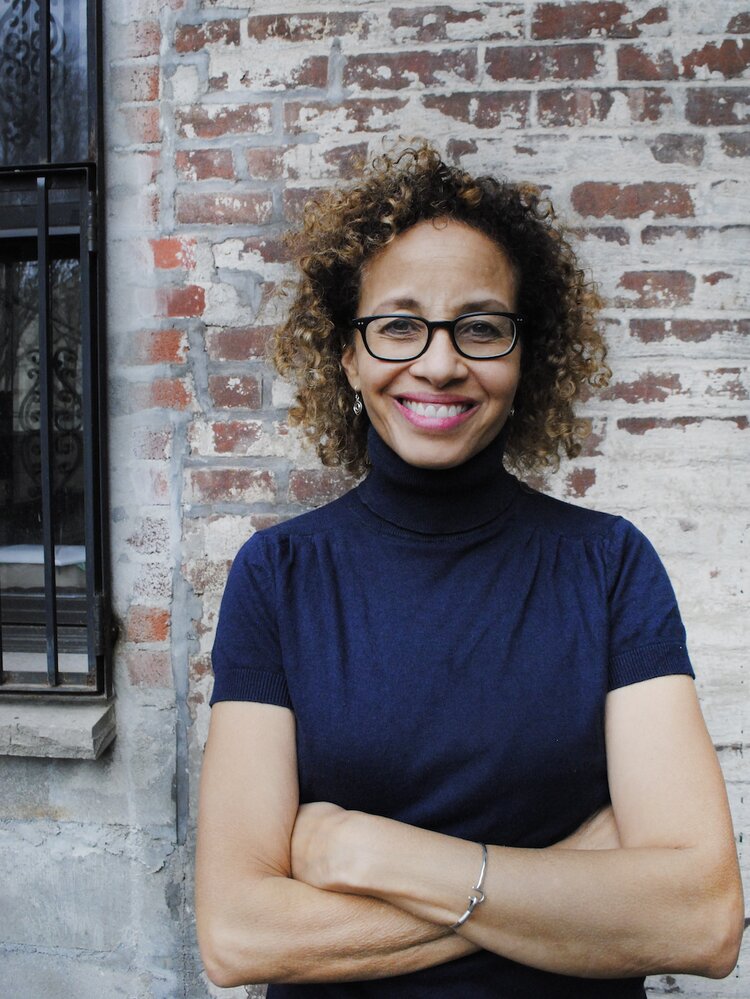 CCNY professor Linda Villarosa is a 2020 inductee into the LGBTQ Journalists Hall of Fame.
Linda Villarosa, New York Times Magazine contributing writer and an assistant professor of journalism and Black Studies at The City College of New York, is one of three new inductees into the LGBTQ Journalists Hall of Fame. Villarosa's fellow 2020 inductees are Outsports.com founders Jim Buzinski and Cyd Zeigler.
"Each of our inductees this year represents a unique trailblazing spirit: Linda in her decades-long work to tell Black women's stories at Essence and in her books, and shed light on the state HIV across the United States, and Jim and Cyd in defying stereotypes and breaking boundaries by carving out a spot for LGBTQ people in sports coverage," said Sharif Durhams, president, NLGJA: The Association of LGBTQ Journalists. "These folks have given us something to look up to and aspire toward, and we are proud to recognize their work by inducting them into our LGBTQ Journalists Hall of Fame."
Villarosa is a contributing writer for The New York Times Magazine, where she covers race, inequality and health. For several years, she edited the health pages for The New York Times, working on health coverage for Science Times and for the newspaper at large. She was also the executive editor of Essence Magazine and is the author or co-author of three books. Her book Under the Skin: Race, Inequality and the Health of a Nation will be published next year by Doubleday.
At City College, Villarosa heads the journalism program in the Media and Communication Arts Department. She has trained journalists from around the world to better cover the HIV/AIDS epidemic at the International AIDS conferences in Barcelona, Bangkok, Toronto, Mexico City, Vienna, Melbourne and Durban. 
Her 2018 cover story, "Why America's Black Mothers and Babies Are in a Life-or-Death Crisis," was nominated for a National Magazine Award. Her 2017 article, "America's Hidden HIV Epidemic," won an NLGJA: The Association of LGBTQ Journalists Excellence in Journalism Award. Her essay on medical myths was included in the New York Times's 1619 Project in August 2019. Most recently, she covered the toll COVID-19 has taken on Black communities in America and the environmental justice movement in Philadelphia. 
Villarosa has won awards from Lambda Literary Foundation, The American Medical Writers' Association, The Arthur Ashe Institute, Lincoln University, the New York Association of Black Journalists, the National Women's Political Caucus and the Callen-Lorde Community Health Center. 
The LGBTQ Journalists Hall of Fame was launched to honor outstanding LGBTQ journalists who have exemplified the association's mission to advance fair and accurate coverage of LGBTQ communities and issues. To date, the LGBTQ Journalists Hall of Fame has honored 48 individuals, living and deceased, who have left a lasting mark on their profession through their own courage and mastery of the practice of journalism.
About the City College of New York
Since 1847, The City College of New York has provided a high-quality and affordable education to generations of New Yorkers in a wide variety of disciplines. CCNY embraces its position at the forefront of social change. It is ranked #1 by the Harvard-based Opportunity Insights out of 369 selective public colleges in the United States on the overall mobility index. This measure reflects both access and outcomes, representing the likelihood that a student at CCNY can move up two or more income quintiles. In addition, the Center for World University Rankings places CCNY in the top 1.8% of universities worldwide in terms of academic excellence. Labor analytics firm Emsi puts at $1.9 billion CCNY's annual economic impact on the regional economy (5 boroughs and 5 adjacent counties) and quantifies the "for dollar" return on investment to students, taxpayers and society. At City College, more than 16,000 students pursue undergraduate and graduate degrees in eight schools and divisions, driven by significant funded research, creativity and scholarship. CCNY is as diverse, dynamic and visionary as New York City itself. View CCNY Media Kit.