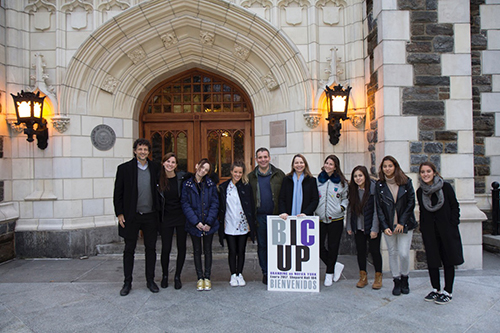 The City College of New York's BIC Program, in association with the Office of Continuing and Professional Studies, welcomed students from the University of Palermo in Buenos Aires to partake in the inaugural BIC Mini Intensive, a 56-hour international certificate course. Seven Spanish-speaking students spent one and a half weeks in New York City soaking up branding, advertising and design.
"This course is interesting, and it was a great opportunity to go to New York again. It's professionally oriented and more hands on; it's very different from courses in Argentina that are more theoretical, " said Melisa Ana Inés Poggio, a BIC certificate student who wants to pursue a master's degree in branding.
The mini-intensive certificate course instructs students in the core principals of the Master's Program in Branding + Integrated Communications (BIC).  Instructed entirely in Spanish by BIC faculty and alumni, the course focuses on how to utilize market research, strategize, and create content that builds a narrative for corporate identity as well as consumer experience.
Conceived by Professors Nancy R. Tag, program director of BIC, and Gerardo Blumenkrantz along with BIC Board Member Gustavo Stecher, the certificate was first promoted at University of Palermo's IV Latin American Congress on Design Education. "We thought that an intensive workshop-style course would be a great way to increase interest in the BIC program for international students, faculty, and professionals who reside in the Spanish Speaking Americas," said Tag.
The students participated in site visits to Y&R Global Headquarters on Columbus Circle, Adobe, which educated them on creating portfolios, and tours at Google, YouTube and Samsung that showcase how new technologies influence branding and design. The program culminates in the students creating and presenting their advertising campaigns.
About The City College of New York
Since 1847, The City College of New York has provided low-cost, high-quality education for New Yorkers in a wide variety of disciplines. More than 15,000 students pursue undergraduate and graduate degrees in eight professional schools and divisions. View CCNY Media Kit .