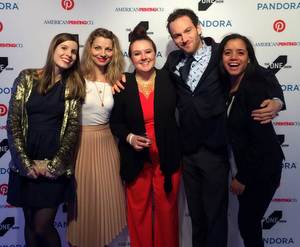 A five-member team from The City College of New York's BIC Program topped an international field to win the Gold Pencil in the One Club's Young Ones Competition at the Metropolitan Pavilion in Manhattan. Megan Fullagar, Benjamin Kent, Marta Mugica, Liana Pantzari and Karina Ramos Salce earned top honors in the Empathy to Equality video category for their entry "Effigies to Equality."
The BIC submission highlights the total absence of female statues among the numerous effigies in Central Park, which includes a rescue dog and King Władysław II Jagiełło of Poland.  "Effigies to Equality" faced competition from entries as far as Milan, Mumbai, Rio de Janeiro and Stockholm.
A jury of top industry professionals and educators served as judges.
The One Show awards the best advertising from the around the world and is widely regarded as the industry's equivalent to the Oscars for creative excellence in advertising and branding.
Nancy Tag, BIC Program director and a judge in the Young Ones competition, hailed the BIC team's success.
"As the Academy Award of the branding and advertising industry, just being considered for a Pencil is almost an award in itself," she said. "But actually winning a Pencil is a life changing honor."
 Tag saluted BIC instructor Jason Stefanik and BIC Creative Track Director Gerardo Blumenkrantz for their guidance and support to the team. 
About The City College of New York
Since 1847, The City College of New York has provided low-cost, high-quality education for New Yorkers in a wide variety of disciplines. More than 15,000 students pursue undergraduate and graduate degrees in the College of Liberal Arts and Science; Bernard and Anne Spitzer School of Architecture; School of Education; Grove School of Engineering; Sophie Davis Biomedical Education/CUNY School of Medicine; and the Colin Powell School for Civic and Global Leadership. U.S. News, Princeton Review and Forbes all rank City College among the best colleges and universities in the United States.