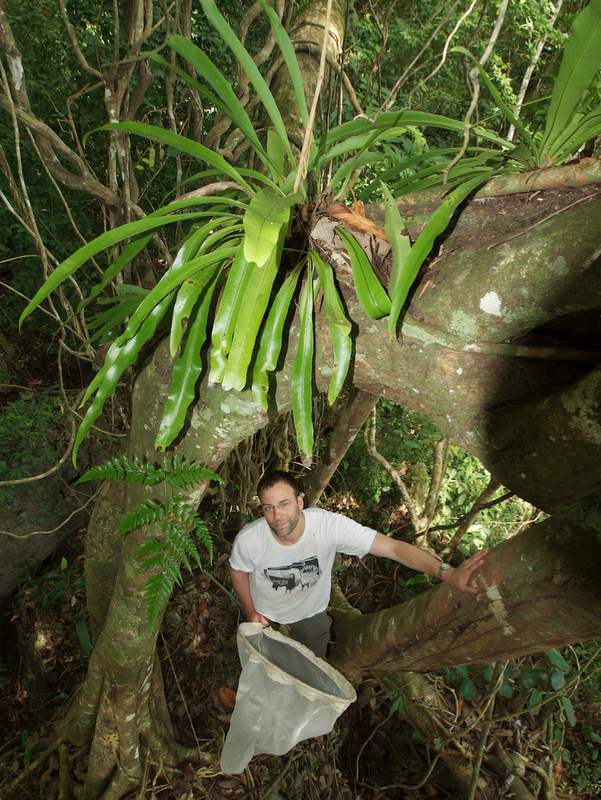 David Lohman, associate professor of biology at The City College of New York and a leading entomologist with two insects named after him, is once again a Fulbright Scholar. His selection as a 2018-2019 Fulbright ASEAN Research Scholar will take him back to Southeast Asia to continue his study of butterfly evolution and the role of islands in species formation.
The six-month award will allow Lohman to travel to Vietnam, Indonesia, and the Philippines to conduct collaborative research on insect evolution and biogeography. He'll work with collaborators in each country to develop their capacity to integrate genetic data into their own research.
Lohman first set foot in a tropical forest as a Fulbright Scholar to Australia in 1995-1996.
Lohman uses a combination of field ecology and molecular phylogenetic methods to investigate how interactions between insects and other organisms shape hyper-diverse communities in the tropics. He also studies the phylogeography of butterflies and other organisms in the Indo-Australian archipelago.
Such is Lohman's reputation in his field that a new species of flies was named after him last year.  Themira lohmanus, a fly that subsists on duck droppings was discovered in Manhattan's Central Park.
Also carrying the Lohman moniker are Chimaeragathis lohmani, a wasp found in Thailand, and Bulbophyllum davidlohmanii, a soon-to-be-published orchid species found on the Philippine island of Mindanao.
About the Fulbright Scholar Program
Established in 1946 under legislation introduced by the late Sen. J. William Fulbright of Arkansas, the program's purpose is to build mutual understanding between the people of the United States and other countries. Fulbright Scholars are selected on the basis of academic or professional achievement and demonstrated leadership potential in their fields. 
About The City College of New York
Since 1847, The City College of New York has provided a high quality and affordable education to generations of New Yorkers in a wide variety of disciplines. Today The Chronicle of Higher Education ranks CCNY #2 among public colleges with the greatest success in ensuring the social mobility of our student body; at the same time the Center for world University Rankings places it in the top 1.2% of universities worldwide in terms of academic excellence. More than 16,000 students pursue undergraduate and graduate degrees in eight professional schools and divisions, driven by significant funded research, creativity and scholarship. CCNY is as diverse, dynamic and visionary as New York City itself.  View CCNY Media Kit.