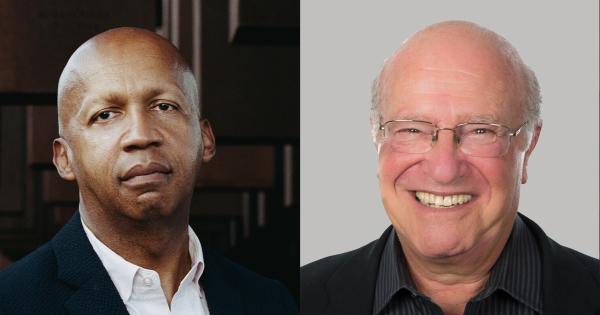 Bryan A. Stevenson, Esq. and Joseph L. Fleischer, FAIA '65, '66
Civil rights attorney Bryan A. Stevenson, Esq., founder and executive director of the Equal Justice Initiative, is the keynote speaker at The City College of New York's 170th commencement ceremony on Friday, June 2 at 10 a.m. He will receive the degree of Doctor of Humane Letters, honoris causa.
City College will also honor architect Joseph L. Fleischer, FAIA '65, '66 with the degree of Doctor of Humane Letters, honoris causa.
Stevenson is being recognized for his outstanding career in law, and his dedication to criminal justice reform and social justice.
Growing up in an era of "informal segregation" in rural southern Delaware, he went on to graduate from Eastern University, magna cum laude, the Harvard University Kennedy School of Government and Harvard Law School.
He founded the Equal Justice Initiative, of which he remains executive director, in 1989 to provide legal representation to people who have believe they have been illegally convicted, unfairly sentenced, or abused in state jails and prisons. Since the EJI's founding, he and his staff have won reversals, relief, or release from prison for more than 135 wrongly condemned prisoners on death row, and have won relief for hundreds of others wrongly convicted or unfairly sentenced. EJI also provides research and recommendations to assist advocates and policymakers in the work of criminal justice reform.
He has garnered numerous awards for his work, including the MacArthur Fellowship ("Genius Grant") and the American Civil Liberties Union's National Medal of Liberty. Click here to read more.
Fleischer is being recognized for his outstanding career in architecture as well as his dedication to CCNY.
In the course of his 45-year career, he has managed the design of facilities across the United States and the world, and his projects have been recognized with numerous awards.
He has remained actively involved at CCNY, serving as president of the Alumni Association of The City College of New York for three years and has served on The Foundation for City College Board since 2021. He set up a gift trust—along with his wife, Carolyn Fleischer '68 – to both the Bernard and Anne Spitzer School of Architecture, and the School of Education through the college's 1847 Society. In 1999, the Alumni Association awarded him its prestigious Townsend Harris Medal for Professional Achievement in the field of architecture.
He is the recipient of the Architecture Group's Professional Achievement Award, as well as the Alumni Association's Service Award. He is a Lifetime Member of the Alumni Association's Executive Board.
About the City College of New York
Since 1847, The City College of New York has provided a high-quality and affordable education to generations of New Yorkers in a wide variety of disciplines. CCNY embraces its position at the forefront of social change. It is ranked #1 by the Harvard-based Opportunity Insights out of 369 selective public colleges in the United States on the overall mobility index. This measure reflects both access and outcomes, representing the likelihood that a student at CCNY can move up two or more income quintiles. Education research organization Degree Choices ranks CCNY #1 nationally among universities for economic return on investment. In addition, the Center for World University Rankings places CCNY in the top 1.8% of universities worldwide in terms of academic excellence. Labor analytics firm Emsi puts at $1.9 billion CCNY's annual economic impact on the regional economy (5 boroughs and 5 adjacent counties) and quantifies the "for dollar" return on investment to students, taxpayers and society. At City College, more than 15,000 students pursue undergraduate and graduate degrees in eight schools and divisions, driven by significant funded research, creativity and scholarship. This year, CCNY launched its most expansive fundraising campaign, ever. The campaign, titled "Doing Remarkable Things Together" seeks to bring the College's Foundation to more than $1 billion in total assets in support of the College mission. CCNY is as diverse, dynamic and visionary as New York City itself. View CCNY Media Kit.