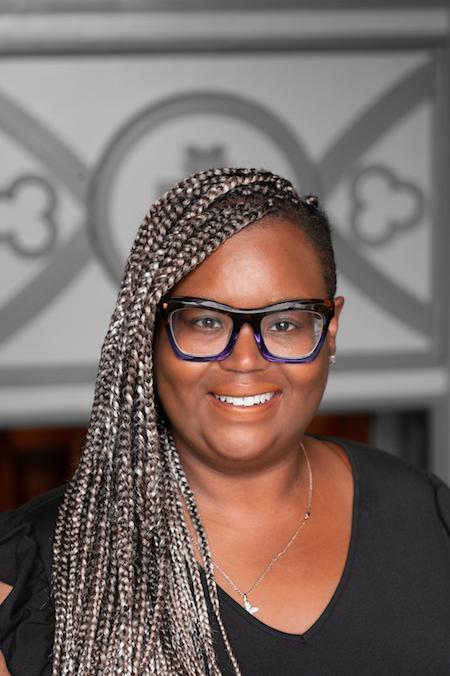 Kay Bell is the 2023-2025 Bronx Poet Laureate.
Kay Bell, adjunct assistant professor in the Department of English and academic advisor in the Division of Humanities and the Arts at The City College of New York, is the 2023-2025 Bronx Poet Laureate. During her tenure, she will promote the history of poetry in the Bronx and ignite a passion for poetry and creative expression throughout the borough through various community engagements.
Bell is an alumna of City College and received her Bachelor of Arts in English in 2015 and her Master of Fine Arts in Creative Writing in 2019. 
"I am confident that working closely with the Bronx community as Poet Laureate will give me the opportunity to deepen my empathy for my students and provide deeper reflection for my writing," said Bell. "This will be a result of me going into the position to learn as much as I educate." 
She is also the author of the poetry book, "Diary of an Intercessor," which details her journey with religion, relationships and self-discovery. Her poem "Girl" was nominated for a Pushcart Prize in poetry. Kay lives in the South Bronx and considers herself a bibliophile. 
"I know genuine collaboration will take place in all aspects of my career and work. To quote bell hooks: 'As a classroom community, our capacity to generate excitement is deeply affected by our interest in one another's voices, in recognizing one another's presence,'" said Bell. "I am deeply passionate about the voices within the Bronx Community and know those are some of the same voices in my classroom and advising office. I am ready to continue listening, giving and growing together in all aspects of my work as an educator and writer."
About The City College of New York
Since 1847, The City College of New York has provided a high-quality and affordable education to generations of New Yorkers in a wide variety of disciplines. CCNY embraces its position at the forefront of social change. It is ranked #1 by the Harvard-based Opportunity Insights out of 369 selective public colleges in the United States on the overall mobility index. This measure reflects both access and outcomes, representing the likelihood that a student at CCNY can move up two or more income quintiles. Education research organization Degree Choices ranks CCNY #1 nationally among universities for economic return on investment. In addition, the Center for World University Rankings places CCNY in the top 1.8% of universities worldwide in terms of academic excellence. Labor analytics firm Emsi puts at $1.9 billion CCNY's annual economic impact on the regional economy (5 boroughs and 5 adjacent counties) and quantifies the "for dollar" return on investment to students, taxpayers and society. At City College, more than 15,000 students pursue undergraduate and graduate degrees in eight schools and divisions, driven by significant funded research, creativity and scholarship. This year, CCNY launched its most expansive fundraising campaign, ever. The campaign, titled "Doing Remarkable Things Together" seeks to bring the College's Foundation to more than $1 billion in total assets in support of the College mission. CCNY is as diverse, dynamic and visionary as New York City itself. View CCNY Media Kit.