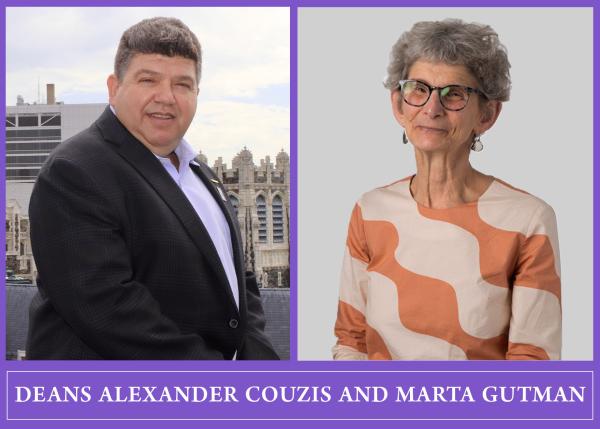 After each serving in an interim capacity, Alexander Couzis and Marta Gutman, have both been appointed to permanent deanships in the Grove School of Engineering and the Bernard and Anne Spitzer School of Architecture, respectively, at The City College of New York. CCNY Provost Tony Liss announced the appointments after nationwide searches.
About Dean Alexander Couzis
Dr. Alex Couzis is a distinguished expert in interfacial engineering, materials engineering, nanomaterials, energy storage, and scale-up processes. He came to CCNY in 1994 as an assistant professor of chemical engineering. He rose through the ranks to full professor in 2004, when he became the Herbert G. Kayser Professor of Chemical Engineering. He served as department chair from 2008-2013. In January of 2013, Couzis took leave from CCNY to assume the role of Chief Technical Officer of Urban Electric Power (UEP), a clean energy company start-up that spun off from CCNY. He was appointed CEO of UEP in 2014.
Couzis returned to CCNY in January of 2018 after setting UEP on a strong path. In response to the Covid-19 pandemic, UEP turned its production to hand sanitizer.  On July 1, 2020, Couzis was appointed Interim Dean of the Grove School.
"It has been my great pleasure to work closely with Dean Couzis and Dean Gutman these past months," said Liss. "They have each shown great leadership, important strategic thinking about how best to deploy our scarce resources, and fresh ideas about how to advance their schools' goals."
About Dean Marta Gutman
An award-winning author, historian and licensed architect, Dr. Marta Gutman has been at CCNY since 2004 and was named Interim Dean of architecture in August 2021. She teaches architectural and urban history at both the Spitzer School and the CUNY Graduate Center. Gutman is a prolific author and the 2021 recipient of the Catherine W. Bishir Prize which is awarded to the scholarly article that has made the most significant contribution to the study of vernacular architecture and cultural landscapes.
In addition to her teaching and scholarship, Gutman is dedicated to CCNY's mission, serving on numerous committees and in the Spitzer School, where most recently she chaired the School's committee on Justice, Equity, Diversity and Inclusion. She is the president of the Society for American City and Regional Planning History and a founding editor of PLATFORM, the online forum for conversations about buildings, landscapes, and spaces.
About the City College of New York
Since 1847, The City College of New York has provided a high-quality and affordable education to generations of New Yorkers in a wide variety of disciplines. CCNY embraces its position at the forefront of social change. It is ranked #1 by the Harvard-based Opportunity Insights out of 369 selective public colleges in the United States on the overall mobility index. This measure reflects both access and outcomes, representing the likelihood that a student at CCNY can move up two or more income quintiles. In addition, the Center for World University Rankings places CCNY in the top 1.8% of universities worldwide in terms of academic excellence. Labor analytics firm Emsi puts at $1.9 billion CCNY's annual economic impact on the regional economy (5 boroughs and 5 adjacent counties) and quantifies the "for dollar" return on investment to students, taxpayers and society. At City College, more than 16,000 students pursue undergraduate and graduate degrees in eight schools and divisions, driven by significant funded research, creativity and scholarship. CCNY is as diverse, dynamic and visionary as New York City itself. View CCNY Media Kit.