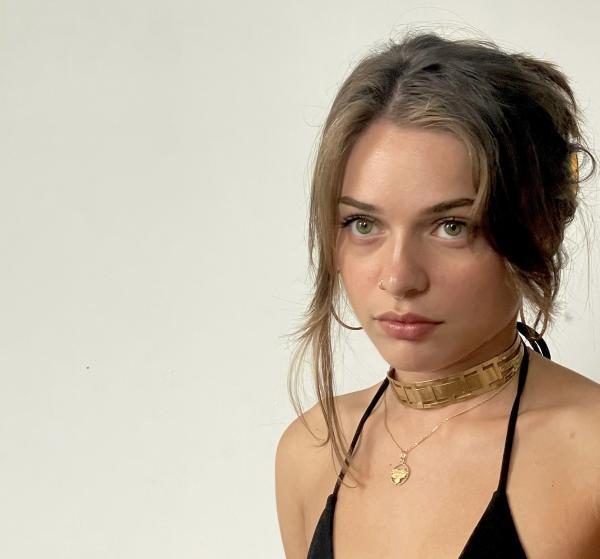 Jazz major Sara Molano is CCNY's first Ella Fitzgerald Scholarship recipient.
The City College of New York and The Foundation for City College are pleased to announce a major gift to establish The Ella Fitzgerald Memorial Scholarship.

Recipients of this award, endowed by the Ella Fitzgerald Charitable Foundation, can major in two subjects, as long as one of them is jazz studies with a vocal concentration, and must maintain a grade point average of 3.0. 

"City College has a great music program and it provides access to students from diverse backgrounds," said Randal Rosman, the Foundation's vice president of programs. While scouting for potential beneficiaries, he was contacted by Assistant Professor of Jazz Vocal Studies Suzanne Pittson. She spoke of the many talented jazz students at CCNY, many of whom often have difficulty funding their studies while committing their time to developing their musical skill.

The College's inaugural Ella Fitzgerald Memorial Scholar is Sara Molano, a junior who transferred from the New School to pursue her passion and accept the Scholarship. A native of Venezuela who grew up in Boston, she cites Billie Holiday and Amy Winehouse – whom she considers to be "a jazz singer with a twist" – as her primary influences.

"I've been singing since I was five," she said, before becoming smitten with the notion of singing professionally as a 12-year-old member of the Boston City Singers. "To think that I could sing and make a living at it – that would be the ultimate!"

"Receiving this scholarship is a dream come true and will give us the opportunity to further cultivate and foster the talent in our program," said Pittson, the associate director of the BM Jazz Studies program, who will serve as Sara's mentor. "Based on her audition, Sara exhibited so much maturity, talent and musicianship that we thought that she would benefit from the Scholarship, and that the College would benefit from her dedication to her music and her studies."

"We're enormously grateful to the Ella Fitzgerald Charitable Foundation for their generous support of students in our Jazz Studies program," said Renata Miller, interim dean of the Division of Humanities and the Arts at City College. "Our BM and MM programs in jazz studies build on Harlem's central role in the history of the art form, and our students enjoy the benefits of and participate in Harlem's musical vitality, so it's particularly fitting that we celebrate the legacy of a Harlem jazz great by supporting the development of new musical voices."

Ella Fitzgerald (1917-1996), nicknamed the First Lady of Song, is one of the most celebrated American artists of all time, having sold more than 40 million albums and having won 13 Grammy Awards. She recorded more than 200 albums and  around 2,000 songs, performed thousands of concerts between 1934 and 1993 – including a memorable one at CCNY's old Lewisohn Stadium in 1965 and one at the opening of Aaron Davis Hall on campus in 1979.  
 
Fitzgerald collaborated with a who's who of American music greats, including Chick Webb, Count Basie, Duke Ellington, and Louis Armstrong, among others. Her numerous awards and honors for her contributions to American life and culture include an honorary doctorate in music from Howard University, the NAACP Lifetime Achievement Award, the Presidential Medal of Freedom, a Grammy Lifetime Achievement Award, and a posthumous commemorative postage stamp. 

The Ella Fitzgerald Charitable Foundation was created and funded by its namesake in 1993 to help people of all races, cultures and beliefs, and to provide assistance to enable those in need to achieve a better quality of life. It currently awards more than 30 scholarships around the country.

"The goal of the Foundation is to foster a love of music and learning," said Rosman. "The Ella Fitzgerald Scholarship at CCNY draws attention to Ella's love of education and young people, and continues to further her legacy of assisting those who are working to make their lives better and more fulfilling, and it is especially meaningful because it is close to where she grew up."
About the City College of New York
Since 1847, The City College of New York has provided a high-quality and affordable education to generations of New Yorkers in a wide variety of disciplines. CCNY embraces its position at the forefront of social change. It is ranked #1 by the Harvard-based Opportunity Insights out of 369 selective public colleges in the United States on the overall mobility index. This measure reflects both access and outcomes, representing the likelihood that a student at CCNY can move up two or more income quintiles. Education research organization DegreeChoices ranks CCNY #3 nationally for social mobility. In addition, the Center for World University Rankings places CCNY in the top 1.8% of universities worldwide in terms of academic excellence. Labor analytics firm Emsi puts at $1.9 billion CCNY's annual economic impact on the regional economy (5 boroughs and 5 adjacent counties) and quantifies the "for dollar" return on investment to students, taxpayers and society. At City College, more than 15,000 students pursue undergraduate and graduate degrees in eight schools and divisions, driven by significant funded research, creativity and scholarship. This year, CCNY launched its most expansive fundraising campaign, ever. The campaign, titled "Doing Remarkable Things Together" seeks to bring the College's Foundation to more than $1 billion in total assets in support of the College mission. CCNY is as diverse, dynamic and visionary as New York City itself. View CCNY Media Kit.