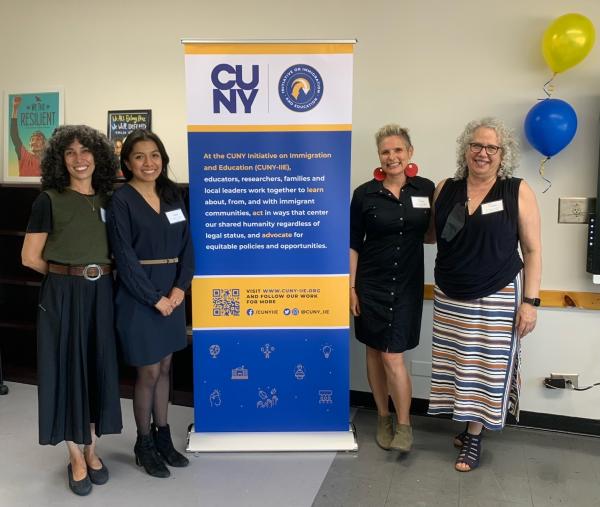 Some of the members of the CUNY-IIE leadership team,(from left) Ariana Mangual Figueroa, Daniela Alulema, Tatyana Kleyn, and Nancy Stern, at the ribbon cutting for the initiative's new space at CCNY.
With a student body representing more than 150 nationalities, The City College of New York's age-old allure to immigrants is undisputable. As is the 175-year-old institution's unstinting commitment dating back to 1847 to educate "the children of the whole people."
No surprise then that CCNY is home to the CUNY-Initiative on Immigration and Education (CUNY-IIE), co-founded just before the Covid pandemic by CCNY educators Tatyana Kleyn, Nancy Stern; and Ariana Mangual Figueroa of the Graduate Center, CUNY. The unique five-year project is funded by the New York State Education Department (NYSED) and works to ensure the educational needs of immigrant New Yorkers across the state are being addressed. 
Led by project director Daniela Alulema, the CUNY-IIE team includes more than 20 members who are CUNY faculty and graduate students as well as current and aspiring educators in NYC and upstate New York. 
CUNY-IIE aims to inform policy, research, and practice that impact immigrant students in collaboration with education and community leaders. "We also learn about current immigration issues, act in ways that center our collective humanity, and advocate for equitable policies for all people regardless of immigration status," said Alulema.
It carries out its mission by developing multimodal resources, conducting independent research, hosting events, and offering professional learning opportunities to educators across New York State. 
And in a major development, CUNY-IIE, which has operated virtually, is now a brick-and-mortar operation with space in CCNY's North Academic Center (NAC) room 6/204. 
 
The CUNY-IIE office houses the CCNY Dream Team space and a library that houses a collection of K-12 children's and young adult literature on immigration, books for educators, and CUNY-IIE reports and resources. There's also conference space for training sessions for educators, meetings, and small public gatherings. 
Applauding this new expansion, Kleyn said: "I cannot tell you how excited we are to have this designated space to hold our CUNY-IIE speaker series events, mini courses for teachers and administrators, summits for educators from our partner schools, meetings with our team and as a safe and consistent space for the CCNY Dream Team."
"In the remaining two years of the initiative, CUNY-IIE will continue to develop resources and expand its reach and engagement with its various stakeholders, including current and aspiring educators, policymakers, and community leaders," said Alulema. 
CUNY-IIE recently released a report titled "A Framework for Immigrant Liaisons," which documents a pilot program developed by the New York State Youth Leadership Council and its educator team, Teach Dream, in starting the first immigrant liaison program in New York. An Immigrant Liaison is a position in a school created to offer support for immigrant students, families, and caregivers, especially those who are undocumented. Click here to read the entire report.
About the City College of New York
Since 1847, The City College of New York has provided a high-quality and affordable education to generations of New Yorkers in a wide variety of disciplines. CCNY embraces its position at the forefront of social change. It is ranked #1 by the Harvard-based Opportunity Insights out of 369 selective public colleges in the United States on the overall mobility index. This measure reflects both access and outcomes, representing the likelihood that a student at CCNY can move up two or more income quintiles. In addition, the Center for World University Rankings places CCNY in the top 1.8% of universities worldwide in terms of academic excellence. Labor analytics firm Emsi puts at $1.9 billion CCNY's annual economic impact on the regional economy (5 boroughs and 5 adjacent counties) and quantifies the "for dollar" return on investment to students, taxpayers and society. At City College, more than 16,000 students pursue undergraduate and graduate degrees in eight schools and divisions, driven by significant funded research, creativity and scholarship. CCNY is as diverse, dynamic and visionary as New York City itself. View CCNY Media Kit.