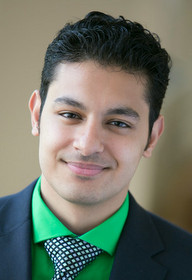 The alma mater of 10 Nobel Laureates and numerous other distinguished alumni, The City College of New York bids farewell to the Class of 2015 at its 169th Commencement Exercises Friday, May 29, at 9 a.m. on CCNY's new South Campus Great Lawn.
The Class of 2015 comprises approximately 3,504 students. Of these 2,514 are receiving undergraduate degrees and 990 graduate degrees. 
The standouts include:
Mexican-born Violeta Contreras Ramirez, 23, this year's Valedictorian. The Westchester resident completed a combined BS/MS program in biology and a BS in psychology with a 3.99 GPA. 
Egyptian native Bishoy Ghobryal is graduating from theMacaulay Honors College at CCNY with a BE in biomedical engineering and a 3.90 GPA. As a Colin Powell Fellow, the Staten Islander developed a strong interest in both public policy and public health. He plans a medical career.  
Merelis Catalina Ortiz, a Rosedale, Queens, resident and the first in her family to attend college, is graduating from CCNY'sColin Powell School for Civic and Global Leadership with a BA in international studies. The SEEK student has a 3.40 GPA, and is a member of Chi-Alpha Epsilon Honors Society, a Partners for Change Fellow, and a CUNY Pipeline Fellow.  
Leonard Speregen, a 30-year New York Harbor employee and returning student who is graduating with a BA in interdisciplinary liberal arts and science. He has a 3.95 GPA and plans to pursue a graduate in earth sciences and become a high school teacher. 
Click here to read about more CCNY 2015 Great Grads.  
Also at commencement, City College will confer honorary degrees on Xerox Corporation chair and CEO Ursula Burns, and alumni Michael Pope, '44BEE and John O'Keefe, '63. O'Keefe became CCNY's tenth Nobel Laureate when he was awarded the 2014 Nobel Prize in Physiology or Medicine for his co­discovery of cells "that constitute a positioning system in the brain.
Click here for more information about City College's 169th Commencement Exercises.
About The City College of New York
Since 1847, The City College of New York has provided low-cost, high-quality education for New Yorkers in a wide variety of disciplines. More than 16,000 students pursue undergraduate and graduate degrees in: the College of Liberal Arts and Sciences; the Bernard and Anne Spitzer School of Architecture; the School of Education; the Grove School of Engineering; the Sophie Davis School of Biomedical Education, and the Colin Powell School for Civic and Global Leadership. U.S. News, Princeton Review and Forbes all rank City College among the best colleges and universities in the United States.