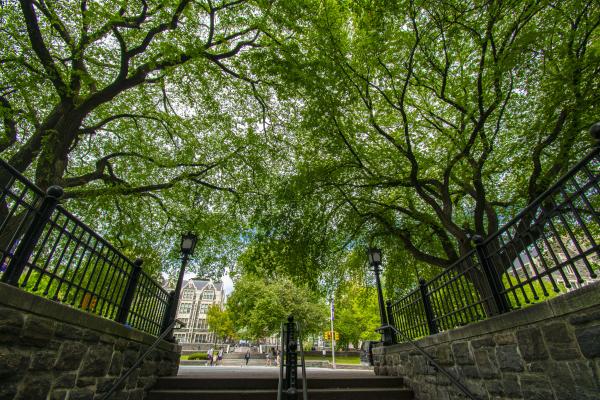 CCNY made the Princeton Review Guide to Green Colleges for the sixth straight year.
For the sixth straight year, The City College of New York ranks among the nation's most environmentally responsible colleges, according to The Princeton Review®. 
The education services company features CCNY in its online resource, "The Princeton Review Guide to Green Colleges: 2024 Edition," published this week. 
Based primarily on the company's surveys of administrators at 683 colleges in 2022–23 and its analyses of more than 25 survey data points, the 2024 edition of the Guide features profiles of 522 schools. Schools that were selected for the Guide all have exceptional programs, policies, and practices related to sustainability and the environment.
"With increasing concern about climate change, particularly among younger people who will be most affected by its long-term impact, we are seeing increasing interest among college applicants in attending green colleges," said Rob Franek, editor-in-chief of The Princeton Review.
Franek noted that The Princeton Review has seen an increasing level of interest among students in attending green colleges. Of the 8,800 applicants the company polled for its 2023 College Hopes & Worries Survey, 69 percent said having information about a college's commitment to the environment would affect their decision to apply to or attend the school. Of that cohort, 28 percent said such information would contribute "very much" or "strongly" to such a decision.
The Princeton Review profiles of all 522 schools in the Guide report the school's Green Rating score (as determined by the company). The profiles also cite some of the schools' green distinctions (as reported by the colleges on the survey). These may include the school's uses of renewable energy, their recycling and conservation programs, and the availability of environmental studies in their academic offerings. Such information can be found in the school profiles under the tab "Campus Life" and sub-topic "Sustainability."
CCNY has a Green Rating of 83/99, and is cited for offering a sustainability-focused degree and having a public GHG (greenhouse gas) inventory plan, as well as Bike Share and Car Sharing Programs.
The Princeton Review has published its "Guide to Green Colleges" annually since 2010. The City College has appeared in the Guide every year since 2018.
CCNY is also featured in The Princeton Review's "Best 389 Colleges Guide for 2024."
How Schools Were Chosen for the 2024 Edition of this Guide
The Princeton Review chose the 522 colleges for this edition based on its 2022–23 survey of administrators at 683 colleges concerning their institutions' sustainability-related policies, practices, and programs. The company also surveyed students attending the colleges about their sustainability-related campus experiences. The company editors analyzed more than 25 data points from the surveys to tally Green Rating scores for the schools on a scale of 60 to 99. Colleges that earned a Green Rating of 80 or higher were selected for this edition of the Guide. Of the 522 schools selected, 474 are in the U.S., 30 are in Canada, four are in Ireland, three are in United Arab Emirates, two (each) are in Australia and Mexico, and one (each) is in Azerbaijan, Brazil, Colombia, Ecuador, Egypt, Greece, Morocco, Philippines, and Taiwan.
Note: The schools in the Guide to Green Colleges are listed alphabetically by school name. They are not ranked overall, from 1 to 522. 
About The Princeton Review
The Princeton Review is a leading tutoring, test prep, and college admissions services company. Every year, it helps millions of college- and graduate school-bound students as well as working professionals achieve their education and career goals through its many education services and products. These include online and in-person courses delivered by a network of more than 4,000 teachers and tutors; online resources; a line of more than 150 print and digital books published by Penguin Random House; and dozens of categories of school rankings. Founded in 1981, The Princeton Review is now in its 42nd year. The company's Tutor.com brand, now in its 23rd year, is one of the largest online tutoring services in the US. It comprises a community of thousands of tutors who have delivered more than 25 million one-to-one tutoring sessions. The Princeton Review, headquartered in New York, NY, is not affiliated with Princeton University. For more information, visit PrincetonReview.com and the company's Media Center. Follow the company on X (formerly Twitter) (@ThePrincetonRev) and Instagram (@theprincetonreview).
About The City College of New York
Since 1847, The City College of New York has provided a high-quality and affordable education to generations of New Yorkers in a wide variety of disciplines. CCNY embraces its position at the forefront of social change. It is ranked #1 by the Harvard-based Opportunity Insights out of 369 selective public colleges in the United States on the overall mobility index. This measure reflects both access and outcomes, representing the likelihood that a student at CCNY can move up two or more income quintiles. Education research organization Degree Choices ranks CCNY #1 nationally among universities for economic return on investment. In addition, the Center for World University Rankings places CCNY in the top 1.8% of universities worldwide in terms of academic excellence. Labor analytics firm Emsi (now Lightcast) puts at $1.9 billion CCNY's annual economic impact on the regional economy (5 boroughs and 5 adjacent counties) and quantifies the "for dollar" return on investment to students, taxpayers and society. At City College, more than 15,000 students pursue undergraduate and graduate degrees in eight schools and divisions, driven by significant funded research, creativity and scholarship. This year, CCNY launched its most expansive fundraising campaign, ever. The campaign, titled "Doing Remarkable Things Together" seeks to bring the College's Foundation to more than $1 billion in total assets in support of the College mission. CCNY is as diverse, dynamic and visionary as New York City itself. View CCNY Media Kit.