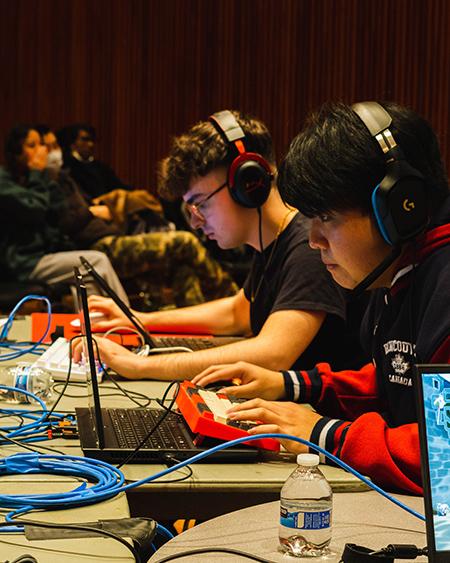 Mayor Eric Adams is supporting the development of a digital games program at CCNY through his economic recovery plan for New York City, "Rebuild, Renew, Reinvest.
Mayor Eric Adams has announced, in his economic recovery plan for New York City "Rebuild, Renew, Reinvest," that increasing the video gaming industries contribution to the city's economy is a high priority for his administration, particularly the Mayor's Office of Media and Entertainment and the Department of Education. The Mayor's plan will increase diversity and equity in the growing digital gaming industry and related fields workforce, making New York City a principal hub for digital gaming development.
The City College of New York will play an important role in expanding the  digital gaming industry in NYC. The program will create and fund a CCNY bachelor's degree program in Game Design, the first public opportunity of its kind in New York City, developing the curriculum for a Bachelor's degree program and providing students from Hostos Community College's Digital Game Design Associate Degree Program to pursue a bachelor's degree at CCNY. The $2 million investment in this Career Pathways Program, which will be funded by MOME, is planned to reach over 1,000 students over the next three years.
"We're grateful that the Mayor's Office for Media and Entertainment is supporting the development of a digital games program at CCNY. Young people in our communities, growing up in an environment where gaming and digital consumer skills are ubiquitous, are exquisitely prepared to make gaming a pathway to solid careers for themselves, and economic development for the city," said City College President Vincent Boudreau. "Moving from gaming competition to technology-driven aspects of design and game development, this program should introduce whole communities of young people to one of our most dynamic economic sectors.  We're grateful, too, to have built this program in collaboration with partners like Urban Arts, Hostos Community College, and the Harlem Gallery of Science."
CCNY will work with the Urban Arts Partnership and Harlem Gallery of Science, preparing high school age youth from Title I schools for careers in the tech field, thereby creating a pathway from high school to City College to the digital gaming industry in NYC.  The program will work closely with the to be formed NYC Digital Games Industry Council inform industry career readiness standards for entry level jobs and will partner with educators to create pathways from classrooms to careers in digital game design. Members of the Council may encourage companies to host internships and hiring managers to include Game Design badges in the hiring process.  
"City College was founded in 1847 by the City of New York to provide a public option for providing a college education to the youth of NYC independent of means, providing New York City the talent and workforce needed to growth the city's economy.  Today's announcement reaffirms the mission and role City College and the City University continue to play 175 years later in growing and sustaining a vibrant city economy" says City College Professor Stan Altman and the project's leader.
The digital games industry is anticipated to make a record $180 billion in global sales revenues. The 2021 NYC Digital Games Industry Economic Impact Report revealed the digital game industry's importance to New York City's economy, which has created $762 million in wages, 7,600 jobs, and $2 billion in economic output, further signifying the need for CCNY and affiliated organizations to engage in this field. 
About the City College of New York
Since 1847, The City College of New York has provided a high-quality and affordable education to generations of New Yorkers in a wide variety of disciplines. CCNY embraces its position at the forefront of social change. It is ranked #1 by the Harvard-based Opportunity Insights out of 369 selective public colleges in the United States on the overall mobility index. This measure reflects both access and outcomes, representing the likelihood that a student at CCNY can move up two or more income quintiles. In addition, the Center for World University Rankings places CCNY in the top 1.8% of universities worldwide in terms of academic excellence. Labor analytics firm Emsi puts at $1.9 billion CCNY's annual economic impact on the regional economy (5 boroughs and 5 adjacent counties) and quantifies the "for dollar" return on investment to students, taxpayers and society. At City College, more than 16,000 students pursue undergraduate and graduate degrees in eight schools and divisions, driven by significant funded research, creativity and scholarship. CCNY is as diverse, dynamic and visionary as New York City itself. View CCNY Media Kit.