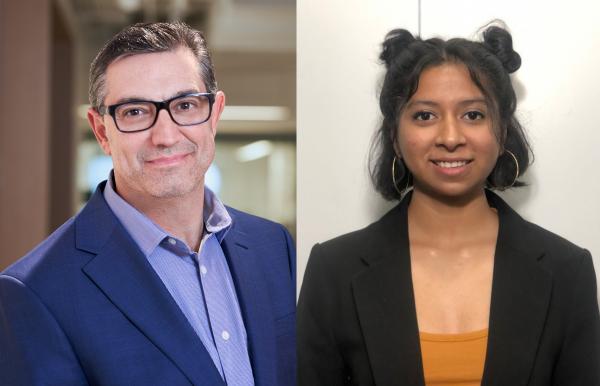 Carlos Cardoso, BBB partner and CCNY Class of 1992, and Mosammet Chowdhury, first recipient of the new $10,000 BBB Foundation-Spitzer School scholarship.
Architecture is a complex discipline which transcends building design and construction. Context and use are everything: the surrounding landscape, the people who will occupy the building, and large-scale environmental issues such as climate change and sustainability.
With this multifaceted model in mind, renowned architectural firm Beyer Blinder Belle has created a scholarship at The Foundation for City College for The City College of New York's Bernard and Anne Spitzer School of Architecture to support students who demonstrate both exceptional ability and financial need. BBB Partner and 1992 Spitzer School graduate Carlos Cardoso led the establishment of the $10,000 scholarship, emphasizing that financial assistance toward tuition and living expenses at Spitzer is integral to fostering a diversity of talent. Although the Beyer Blinder Belle Foundation (BBBF) underwrites a travel fellowship open to U.S. architecture graduate students, Cardoso envisioned something more tailored to Spitzer students' needs.
"We recognize that while travel can be rewarding, we also wanted to create a scholarship that supports a Spitzer School of Architecture student's educational cost," said Cardoso.
The inaugural BBBF scholarship winner is fifth-year Spitzer architecture student Mosammet Chowdhury. Born in Bangladesh, and raised in the Bronx, Chowdhury believes nature and the needs of migrants coming into the country have a lot do with with the architect's role in design.
"Nature has discovered sustainable and long-lasting designs through billions of years of evolution and continues to do so," said Chowdhury, who, as the first member of her family to attend university and pursue a professional degree, overcame significant obstacles toward realizing her dream.
 Marta Gutman, Dean of the Spitzer School, was determined to support students who need help.
"These are the new Americans who will shape the architecture of the country," she said.
The three finalists for the award were chosen from 27 applicants for the scholarship.
"It was a very hard choice," said Gutman. "Every student has a compelling story."
The Beyer Blinder Belle Foundation will underwrite the $10,000 stipend for three years.
Beyond solely offering financial support, BBB intends the scholarship to support an introduction to the professional practice of architecture, offering recipients "another family to reach out to," said Cardoso. "There's an acre of diamonds at the Spitzer School. All will do great work wherever they land." 
About BBB
Founded in 1968, Beyer Blinder Belle (BBB) has offices in New York City, Boston, and Washington, DC. The 170-person firm is acclaimed for revitalizing some of America's most iconic public buildings and cultural institutions. A persistent exploration of historic, cultural, and civic meaning guides the firm's work, while its design is contemporary and reflects the materials and technologies of today. 
The Foundation's mission is inspired by the core values of Beyer Blinder Belle, which from its founding defined an approach to design focused on architecture empowering people—through their interaction on streets and in neighborhoods, and through their connections to the surrounding built environment.
Through fellowships, grants, and other initiatives, the Foundation engages the full cycle of design, from inspiring young people to enter the profession, to supporting graduate research, to enabling thoughtful, socially-conscious design and planning that directly benefits communities. 
About the City College of New York
Since 1847, The City College of New York has provided a high-quality and affordable education to generations of New Yorkers in a wide variety of disciplines. CCNY embraces its position at the forefront of social change. It is ranked #1 by the Harvard-based Opportunity Insights out of 369 selective public colleges in the United States on the overall mobility index. This measure reflects both access and outcomes, representing the likelihood that a student at CCNY can move up two or more income quintiles. In addition, the Center for World University Rankings places CCNY in the top 1.8% of universities worldwide in terms of academic excellence. Labor analytics firm Emsi puts at $1.9 billion CCNY's annual economic impact on the regional economy (5 boroughs and 5 adjacent counties) and quantifies the "for dollar" return on investment to students, taxpayers and society. At City College, more than 16,000 students pursue undergraduate and graduate degrees in eight schools and divisions, driven by significant funded research, creativity and scholarship. CCNY is as diverse, dynamic and visionary as New York City itself. View CCNY Media Kit.