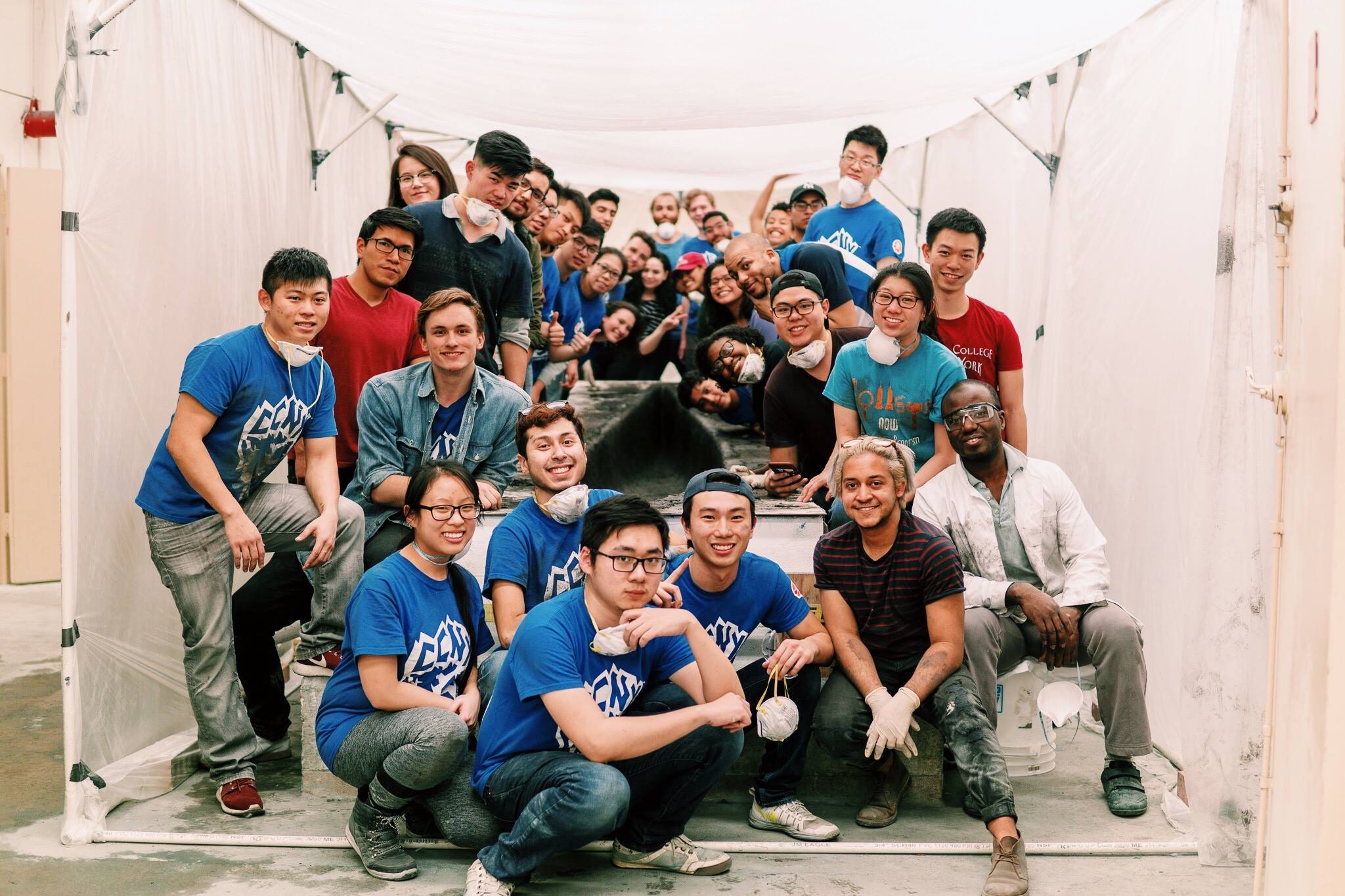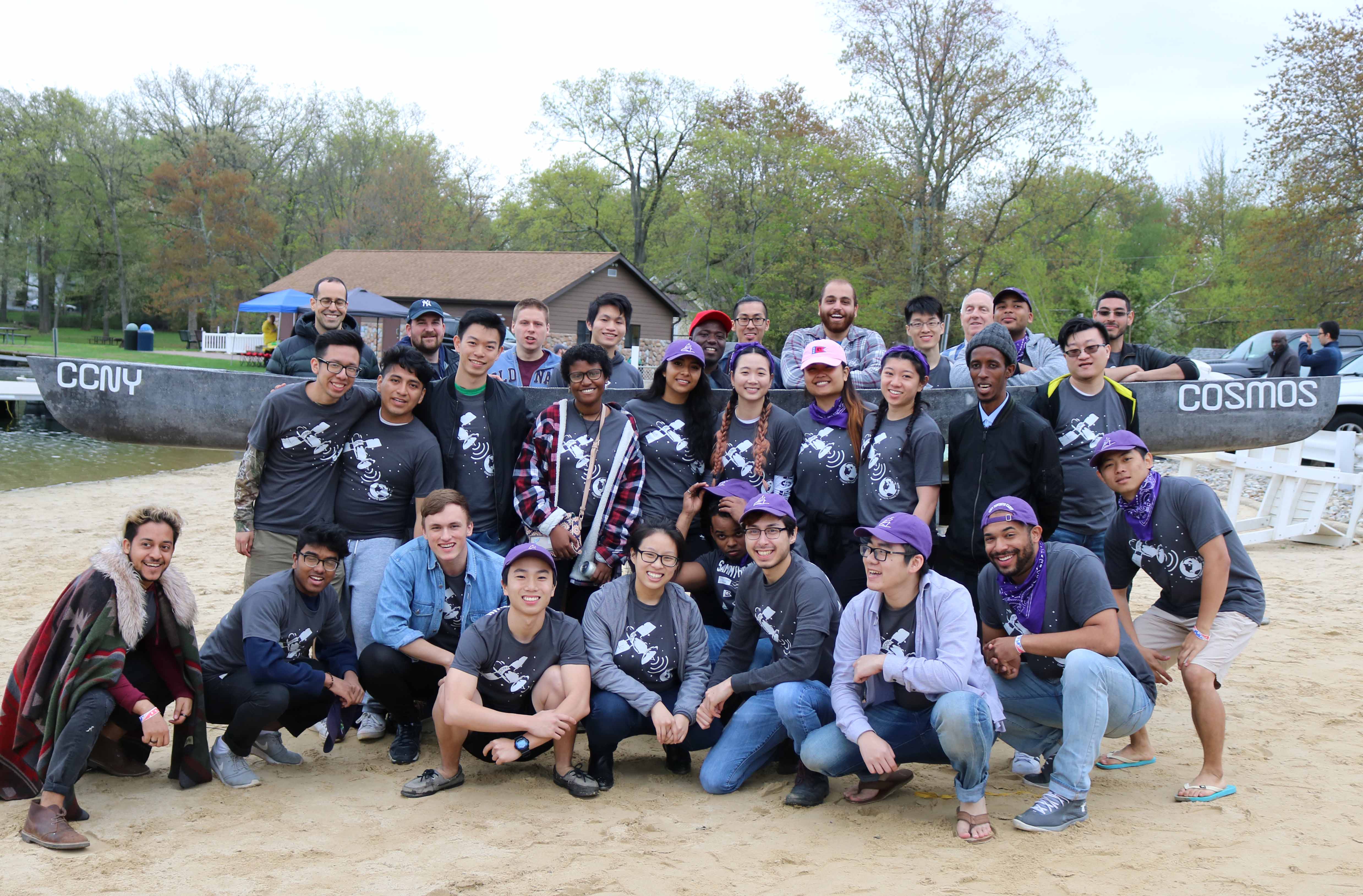 Engineering students are used to solving tough problems. But building a canoe made of concrete that's capable of winning a race – that's quite an accomplishment!
On May 7, a team of Grove School of Engineering students made The City College of New York proud by finishing first in the Men's Sprint, second in the Women's Sprint, and by taking third place overall in the 2018 Concrete Canoe Metropolitan Conference Competition. The team also won first place for their report paper.
Here's a list of how CCNY ranked in each of the competition categories: 
Design Paper - 1st Place
Oral Presentation - 4th Place
Final Product - 2nd Place
Women's Sprint - 2nd Place
Men's Sprint - 1st Place
Co-ed Sprint - 3rd Place
Women's Endurance - 3rd Place
Men's Endurance - 6th Place
Total - 3rd Place
How on earth did they do it? The GSOE civil engineering Concrete Canoe team made improvements to the standard concrete mix using new components such as expanded shale and pozzitive (a secondary cementitious material). They also relied on one other key ingredient: Slack, the mobile app that keeps collaboration and communication flowing.
Although their canoe, which is named Cosmos, was heavier than that of NYU, they managed to beat their rival in two of the sprint races.
It's also worth noting that CCNY had the largest number of supporters who produced the highest volume of noise during the races!
Faculty advisor Ardavan Yazdanbakhsh, an assistant professor in the department of Civil engineering at the Grove School commented on the team's accomplishments saying: "When I think of Concrete Canoe club, the first thing that comes to mind is the efficiency with which the students have been managing this multi-scale project. They handle a wide range of activities including engineering design, construction, logistics, practicing paddling, academic writing, oral presentation, and dealing with critical and urgent situations. Over the past six years I have observed the high degree of professionalism in the manner the students communicate and work together. Concrete Canoe is an old CCNY tradition. It has been giving the students precious memories and invaluable experience that they carry through their lives and careers."
Congratulations to all of the GSOE civil engineering Concrete Canoe team members:
John Cifuentes
Erica Loo
Fabian Francis
Ethan Chiu
Betsy Vargas
Daisy Leandro
Elaine Famutimi
Dehaan Rahman
Luis Abreu
Andrea Limon
Bryant Ling
Jonathan Flores
Xinbin Xu
John Baumann
Jonathan VanSleet
Jan Kasimierscuk
Anthony Nuccio
Zhi Chen
Jesica Mei
Richard Aguilar
About The City College of New York
Since 1847, The City College of New York has provided a high quality and affordable education to generations of New Yorkers in a wide variety of disciplines. Today The Chronicle of Higher Education ranks CCNY #2 among public colleges with the greatest success in ensuring the social mobility of our student body; at the same time the Center for world University Rankings places it in the top 1.2% of universities worldwide in terms of academic excellence. More than 16,000 students pursue undergraduate and graduate degrees in eight professional schools and divisions, driven by significant funded research, creativity and scholarship. CCNY is as diverse, dynamic and visionary as New York City itself. View CCNY Media Kit.