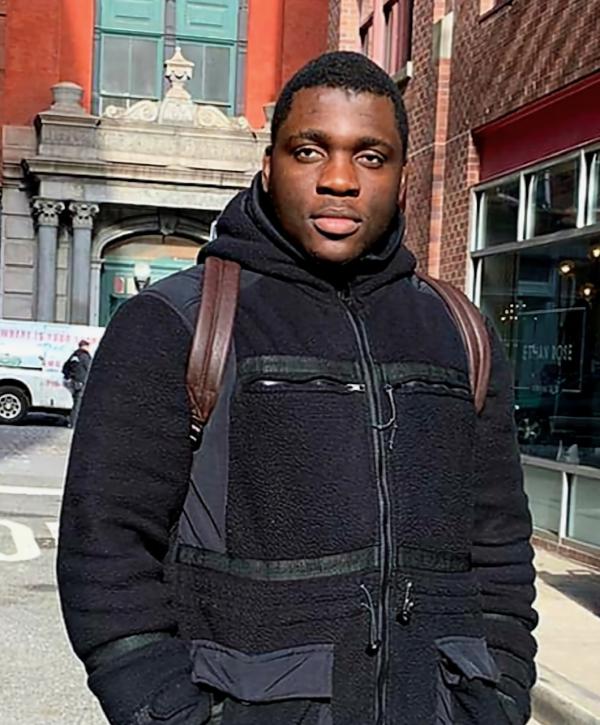 The Colin Powell School's Gilles Seulio is a 2023 PPIA Junior Summer Institute Fellow.
City College of New York political science major Gilles Seulio has been accepted to the Public Policy and International Affairs Program (PPIA) Junior Summer Institute at the University of Washington for the summer of 2023. PPIA is a not-for-profit organization supporting efforts to increase diversity in graduate studies in public policy and international affairs.

Originally from Cameroon, Seulio is a junior in CCNY's Colin Powell School for Civic and Global Leadership. He became interested in public service in 2008 while attending high school in Douala, when violent protests broke out following a transit workers' strike. Police began shooting people. Seulio recalls having to run home from school in a 20-minute terrified sprint. At that moment, he became interested in politics. "I wanted to understand why it happened what could have been done to prevent it," Seulio said.

The Fellowship is designed to prepare students for a master's or a joint degree in public policy, public administration, international affairs, or a related field. The fellowship is awarded to juniors majoring in political science. Students study on the campus of one of six participating universities: Carnegie Mellon University, Princeton University, the University of California, Berkeley, University of Michigan, University of Minnesota, and University of Washington.

Seulio will attend the University of Washington Daniel J. Evans School of Public Policy and Governance, where he and the other participants will learn new skills through a variety of experiences, from academic study to field trips to engagement with community leaders, regional leaders, and elected officials.

The fellowship award provides full tuition at a PPIA Junior Summer Institute, some travel expenses, a stipend, university housing, meals, books and related course materials. Individual schools may offer additional assistance, such as GRE preparation. PPIA graduates also receive a minimum one-time $5,000 scholarship if they're admitted for a Master's degree at any PPIA graduate school.

In 2022, Seulio received the Colin Powell Fellowship in Leadership and Public Service, as well as the New York Leaders Fellowship awarded by the Moynihan Center that prepares students for a career in public service.
About the City College of New York
Since 1847, The City College of New York has provided a high-quality and affordable education to generations of New Yorkers in a wide variety of disciplines. CCNY embraces its position at the forefront of social change. It is ranked #1 by the Harvard-based Opportunity Insights out of 369 selective public colleges in the United States on the overall mobility index. This measure reflects both access and outcomes, representing the likelihood that a student at CCNY can move up two or more income quintiles. Education research organization Degree Choices ranks CCNY #1 nationally among universities for economic return on investment. In addition, the Center for World University Rankings places CCNY in the top 1.8% of universities worldwide in terms of academic excellence. Labor analytics firm Emsi puts at $1.9 billion CCNY's annual economic impact on the regional economy (5 boroughs and 5 adjacent counties) and quantifies the "for dollar" return on investment to students, taxpayers and society. At City College, more than 15,000 students pursue undergraduate and graduate degrees in eight schools and divisions, driven by significant funded research, creativity and scholarship. This year, CCNY launched its most expansive fundraising campaign, ever. The campaign, titled "Doing Remarkable Things Together" seeks to bring the College's Foundation to more than $1 billion in total assets in support of the College mission. CCNY is as diverse, dynamic and visionary as New York City itself. View CCNY Media Kit.
 
Erica Rex
p: 845.668.0322
e: erex.ccny.cuny.edu