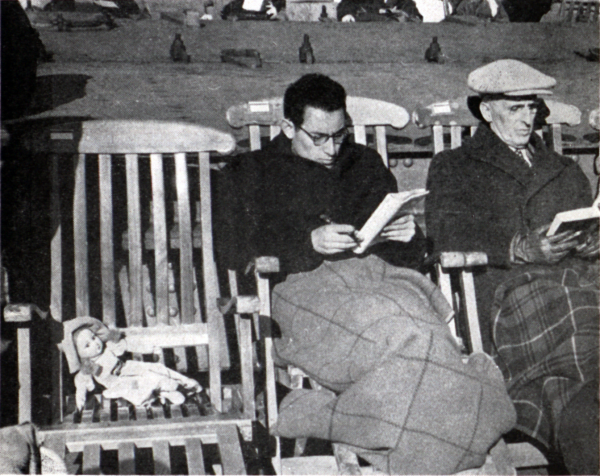 CCNY Student Wilfred Mendelson on the deck of the S.S. Manhattan on his way to fight in the Spanish Civil War in 1938.
Iberian Cultural Studies Associate Professor Isabel Estrada found the uncatalogued book in the Cohen Library prior to the Covid-19 pandemic. The digital edition was edited and annotated collaboratively by Estrada; NEH Digital Humanities Fellow Stefano Morello and students in the Spring 2022 course "Activism and the College Experience" at CCNY. The course sought to examine political activism on the CCNY campus in the context of the transnational conflict between totalitarianism and democracy that preceded WWII, while introducing students to digital humanities tools and methodologies.
Educators are invited to use the text from this collaborative critical edition as an open educational resource to teach about the Spanish Civil War, its perception from the United States, as well as past and present forms of student political activism. Click here to access the text.
Graduate student Melanie Matonte received funding from the Opportunities in Research and Creative Arts (ORCA) program at CCNY, and later presented the collection at the 7th ORCA Undergraduate Research Symposium this month.  
Mendelson attended CCNY from 1931-35 when he was expelled for his subversive political activity. The book's touching dedication to Mendelson's parents is taken from a letter he wrote to them from Spain dated June 22, 1938: "You made me whatever I am today and I will always be proud of your teaching." He died the following month in an offensive to recross Spain's River Ebro.
Contributors to the project in addition to Estrada, Morello and Matonte, included Stefan Hamilton, Scarlet Almanzar, Adonis Anderson, Kimberly Geraldino, Tafriha Nowsheen, and Amando Villano Clemente.
The Humanities and the Arts Interim Dean Renata Kobetts-Miller and co-PI Professor Thomas Peele supported the class through an NEH grant 'Building a Digital Humanities Minor at CCNY.'
About the City College of New York
Since 1847, The City College of New York has provided a high-quality and affordable education to generations of New Yorkers in a wide variety of disciplines. CCNY embraces its position at the forefront of social change. It is ranked #1 by the Harvard-based Opportunity Insights out of 369 selective public colleges in the United States on the overall mobility index. This measure reflects both access and outcomes, representing the likelihood that a student at CCNY can move up two or more income quintiles. Education research organization DegreeChoices ranks CCNY #3 nationally for social mobility. In addition, the Center for World University Rankings places CCNY in the top 1.8% of universities worldwide in terms of academic excellence. Labor analytics firm Emsi puts at $1.9 billion CCNY's annual economic impact on the regional economy (5 boroughs and 5 adjacent counties) and quantifies the "for dollar" return on investment to students, taxpayers and society. At City College, more than 15,000 students pursue undergraduate and graduate degrees in eight schools and divisions, driven by significant funded research, creativity and scholarship. This year, CCNY launched its most expansive fundraising campaign, ever. The campaign, titled "Doing Remarkable Things Together" seeks to bring the College's Foundation to more than $1 billion in total assets in support of the College mission. CCNY is as diverse, dynamic and visionary as New York City itself. View CCNY Media Kit.