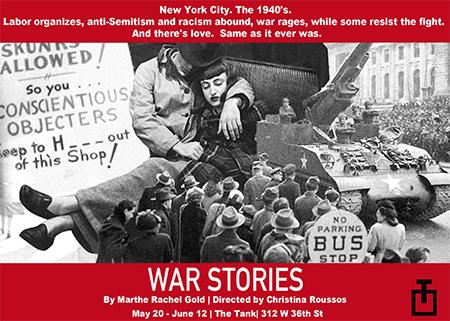 "War Stories," written by Marthe Rachel Gold and directed by Christina Roussos, runs from May 20-June 12.
The premiere of "War Stories," written by Marthe Rachel Gold, professor emerita at the CUNY School of Medicine at The City College of New York, begins on May 20 at The Tank's Proscenium Theater. The play, directed by Christina Roussos, a graduate of Brooklyn College's MFA Program in Theater, will run through June 12.
"'War Stories' is a play about people who are engaged in the fight for a more just world while they go about living their lives," said Gold. "Idealists in every generation wrestle with choices – both personal and political. In writing this play I hope to have given a nod to those who came before and help us see them in ourselves." 
"War Stories," set in World War II New York City, is the story of Ruth, a young musician from a working-class immigrant family who has come to the city in pursuit of her music, her freedom, and her politics. Exploring the world through music, labor action, and relationships, she is committed in her support of the war. 
Her pro-war views are challenged by Nat, who comes from a wealthy industrial Jewish family and sees all wars as capitalist and corrupt. "War Stories" embeds their personal struggles within the context of those of workers and conscientious objectors, against a backdrop of antisemitism, racism and labor action. 
The play features Sophia DeLeo ("Sleepy Hollow"); Jorge Sánchez Díaz ("The Skin of Our Teeth"); Lenny Grossman ("Blackbird"); Maia Karo ("Anarchy"); Max Katz ("the devil smokes American Spirit"s); Arlene A. McGruder ("Elizabeth's Precious Kitty"); J. Ryan ("Harmony in A Flat"); and Kaya Simmons ("Two-Fifths"). 
 A talkback with Gold and Greg Neumann, both of whom are children of World War II conscientious objectors, will follow the May 26 performance, and on June 2, a talkback with Professor Ruth Milkman, from the CUNY School of Labor and Urban Studies and CUNY Graduate Center, about the impact on U.S. women workers on economic crisis and the war in the 1930s and 40s will follow the performance.
The Tank is partnering with Häagen-Dazs as part of the #ThatsDazs campaign mission to support underrepresented creative communities, uplift the arts, and inspire everyone to express their own personal passions: #ThatsDazs. 
For more information, and to purchase tickets, please click here.
About the City College of New York
Since 1847, The City College of New York has provided a high-quality and affordable education to generations of New Yorkers in a wide variety of disciplines. CCNY embraces its position at the forefront of social change. It is ranked #1 by the Harvard-based Opportunity Insights out of 369 selective public colleges in the United States on the overall mobility index. This measure reflects both access and outcomes, representing the likelihood that a student at CCNY can move up two or more income quintiles. In addition, the Center for World University Rankings places CCNY in the top 1.8% of universities worldwide in terms of academic excellence. Labor analytics firm Emsi puts at $1.9 billion CCNY's annual economic impact on the regional economy (5 boroughs and 5 adjacent counties) and quantifies the "for dollar" return on investment to students, taxpayers and society. At City College, more than 16,000 students pursue undergraduate and graduate degrees in eight schools and divisions, driven by significant funded research, creativity and scholarship. CCNY is as diverse, dynamic and visionary as New York City itself. View CCNY Media Kit.