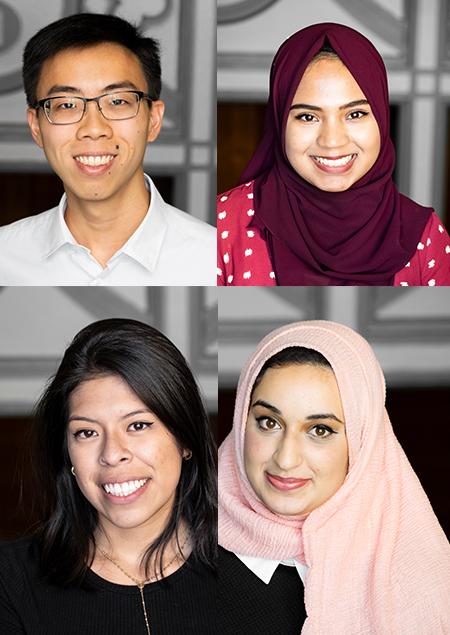 B.S./M.D. Program students in the CEESP Tanzania summer course. Top: Eric Jon and Shanjida Ambia. Bottom: Beatriz Martinez-Flores and Fatma Shalan.
Tanzania, one of Africa's largest countries with a population of almost 55 million, has only one cancer treatment center in Dar es Salaam with limited resources. B.S./M.D. Program students from the CUNY School of Medicine at The City College of New York are helping patients of the Ocean Road Cancer Institute fight cancer using their research skills.  
The Cancer Epidemiology Education in Special Populations (CEESP) Post Summer Career Development Workshop was established in 2018 and focuses on career planning, development and research advisement for clinicians. The four CCNY students worked with three public health students in Tanzania, including one student from the CUNY Graduate School of Public Health and Health Policy.
"Medicine is not only a form of healthcare but a response to the needs of others. Epidemiology is seen through research and is a stepping stone to making changes that can ultimately help many individuals, from New York to Tanzania," said Beatriz Martinez-Flores, a fellow of the Mack Lipkin Broader Horizons Fellowship, about her experience.  "I now have a greater appreciation for the voice researchers and physicians give to their patients, and how I can help make changes to the way healthcare is practiced."
The Class of 2023 students and their research topics are:
Shanjida Ambia researched breast cancer analyzing clinical and demographic factors of patients at the breast cancer screening clinic;
Eric Jon researched changing trends of liver cancer in association with HIV and hepatitis infection;
Beatriz Martinez-Flores conducted a study on HPV-related anogenital cancers and their proportional changes over a 16-year span, which is important in the development of preventative interventions like vaccination programs; and 
Fatma Shalan researched epidemiological and clinical factors that influence precancerous and cancerous lesions of the cervix.
About The City College of New York
Since 1847, The City College of New York has provided a high quality and affordable education to generations of New Yorkers in a wide variety of disciplines. CCNY embraces its role at the forefront of social change. It is ranked #1 by the Harvard-based Opportunity Insights out of 369 selective public colleges in the United States on the overall mobility index. This measure reflects both access and outcomes, representing the likelihood that a student at CCNY can move up two or more income quintiles. In addition, the Center for World University Rankings places CCNY in the top 1.2% of universities worldwide in terms of academic excellence. More than 16,000 students pursue undergraduate and graduate degrees in eight professional schools and divisions, driven by significant funded research, creativity and scholarship. CCNY is as diverse, dynamic and visionary as New York City itself.  View CCNY Media Kit