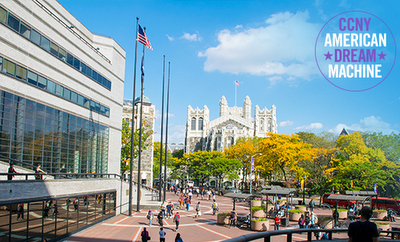 Autumn leaves fall as City College of New York students scurry to classes enticed by exceptional programs, research and faculty. As the foliage turns from green to orange and yellow, exciting events are popping up all around CCNY's beautiful campus in celebration of CUNY Month this November.
Highlights include discussions, lectures, poster presentations and film screenings. Following is a list of CUNY Month events at City College:
Tuesday, Nov. 8, "Conversations in Leadership," featuring JPMorgan Chase chairman and CEO Jamie Dimon.
Wednesday, Nov. 9, Physics Student Research Symposium.
Nov. 9, "Wilhelmina's War - A Family Fighting HIV in South Carolina," a film by June Cross.
Thursday, Nov. 10, "Presidential Conversations: Upward Mobility: Moving Up Without Losing One's Way," Jennifer Morton, CCNY assistant professor, philosophy.
Tuesday, Nov. 15, "Think Like They Think" @BIC Lecture with designer Douglas Davis.
Thursday, Nov. 17, Annual CCAPP Poster Presentation, showcasing Division of Science undergraduate student research projects.
Nov. 17, Langston Hughes Festival's celebration of playwright and poet Ntozake Shange.
Nov. 17, Pulitzer-Prize winning journalist and author Susan Faludi talks about her new book, "In the Darkroom."
Friday, Nov. 18. "Candido: The Last Legendary Music Journey," presented by the City College Center for the Arts & Latin Jazz USA.
Monday, Nov. 21, Master of Architecture Info Session, recruitment event for prospective students to learn about the Spitzer School's master of architecture programs.
Wednesday, Nov. 30, Physics Colloquium, "Thermalization and its Discontents." Speaker, Sarang Gopalakrishnan, College of Staten Island.
For a full listing of all November events at City College, go to: https://www.ccny.cuny.edu/calendar
About The City College of New York
Since 1847, The City College of New York has provided low-cost, high-quality education for New Yorkers in a wide variety of disciplines. More than 15,000 students pursue undergraduate and graduate degrees in the College of Liberal Arts and Science; Bernard and Anne Spitzer School of Architecture; School of Education; Grove School of Engineering; Sophie Davis Biomedical Education/CUNY School of Medicine; and the Colin Powell School for Civic and Global Leadership. U.S. News, Princeton Review and Forbes all rank City College among the best colleges and universities in the United States.